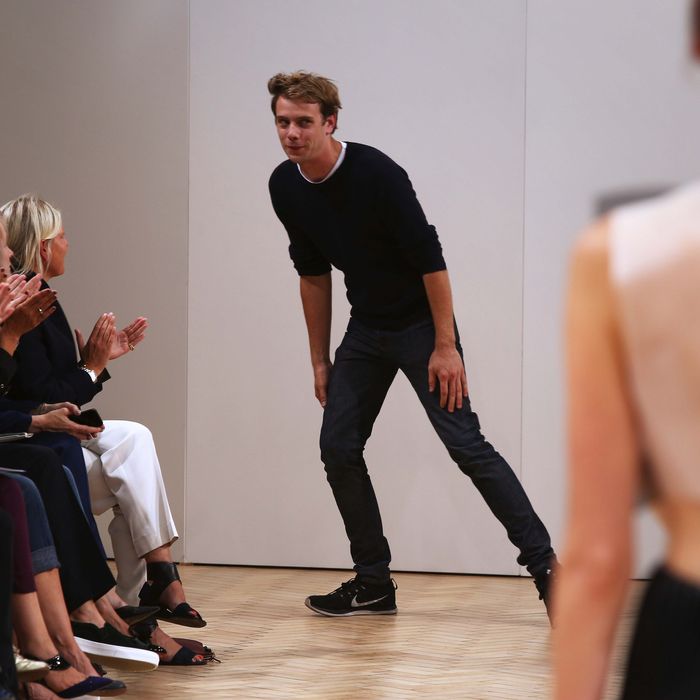 Photo: Tim P. Whitby/Getty Images
French fashion conglomerate LVMH announced to WWD yesterday that they'd hired 29-year-old designer J.W. Anderson to take over Loewe, one of their many luxury brands. (He'll replace former Loewe designer Stuart Vevers, who recently decamped to fill Reed Krakoff's shoes at Coach.) In return, the company has taken a minority stake in Anderson's eponymous brand, which has recently captured the affections of many higher-ups in the fashion industry. Today, LVMH's Bernard Arnault described their new union with characteristic formality, like a maître d' explaining a superior wine pairing:
While discussing our partnership and as we got to know him better, it became clear that his understanding of all creative facets of a brand and his capacity to transform tradition into an exciting vision for the present would make him also the perfect creative director for Loewe.
How nice. This investment is LVMH's second in two weeks — they recently bought a minority stake in British shoe designer Nicholas Kirkwood. Meanwhile, rival luxury group Kering is playing the same game, having invested in designers Altuzarra and Christopher Kane. Anderson likened the experience to being accepted into "the Oxford of luxury goods" — once your foot's in the door at this level, many more will open.