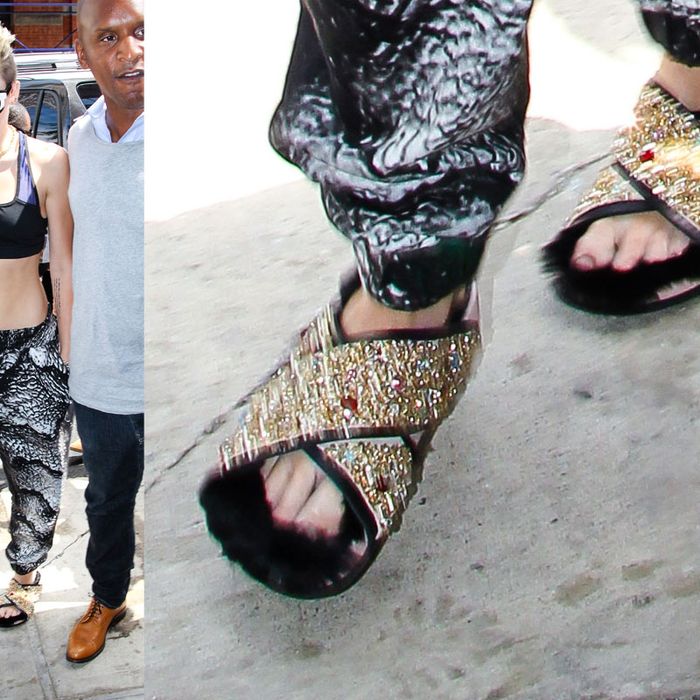 Among the many gems in Rolling Stone's tongue-heavy Miley Cyrus profile is an anecdote about Miley's gem-encrusted and mink-lined Céline fur-kenstock sandals. The shoes are from Céline's spring 2013 collection. By August, Miley's pair were already falling apart, prompting Kanye West to buy her five more pairs after the VMAs:
After the show, Miley and Kanye met up at a Manhattan recording studio to work on a remix for his song "Black Skinhead." The next day he sent a text: "He said, 'I still can't quit thinking about your performance,'" Miley says. She also happened to mention that a pair of fur Céline slippers she'd bought were falling apart, and Kanye bought her five more pairs.
Above, Miley wearing her fur-kenstocks in June. Given the price of those shoes (Us Weekly estimates "about $910," but the Cut recalls seeing non-bedazzled models retailing around that price), the shock is not so much that Kanye bought five of them (I mean, duh, he's Kanye) but that they fell apart so soon. What does Miley do in her shoes to destroy such high-quality ones so quickly? She's a pop star, it's not like she wanders through fire pits on a daily basis or anythi —
Her video for "We Can't Stop" was inspired by just such fun — an epic two-day house party with a bunch of the homies that moved from a friend's home in the Hills to the beach in Malibu and back. At one point, Miley fell asleep in front of a fireplace and melted her Docs.
Oh. Well. Carry on, then.