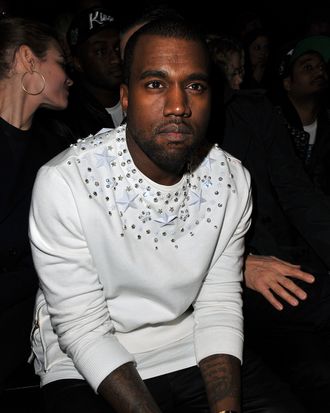 Kanye West.
Photo: Pascal Le Segretain/Getty Images
In an hour-long interview with BBC Radio 1's Zane Lowe, Kanye West touched on the subject of fashion several times. Namely, he mentioned Fendi, leather jogging pants, and Hedi Slimane, and that he was way ahead of all of them:
Whether I'm at a dinner with Anna Wintour, or a listening party with Pusha-T or in Rome with Virgil [Abloh, West's creative director], giving Fendi our designs and getting them knocked down … [We] brought the leather jogging pants six years ago to Fendi, and they said no … How many motherfuckers you done seen with a leather jogging pant?
First off, way to quote his own lyrics. Secondly, he's mad that Fendi didn't want to make his leather jogging pants six years ago, which then became trendy earlier this year after designers like Isabel Marant put them on the runway? That's a lot of resentment to hold onto. Speaking of which, he doesn't exactly want to speak ill of Hedi Slimane, because he makes some nice pants, but …
When I see Hedi Slimane, and it's all like, okay, this is my take on the world. Yeah, he's got some nice $5,000 jeans in there. It's some nice ones here and there, some good shit here and there. But we culture. Rap the new rock and roll. We culture. Rap is the new rock and roll. We the rock stars … It's been like that now for a minute, Hedi Slimane! It's been like that now for a minute. We the rock stars, and I'm the biggest of all of them.
What he means is vague. British Vogue interpreted these statements as Kanye saying he's "the victim of fashion plagiarism and that Hedi Slimane is the main culprit." But Kanye also seems to be addressing Slimane's obsession with musicians and rock stars — such as Courtney Love, Keith Richards, Marilyn Manson, and Kim Gordon — and saying it's outdated. Sure, some of Slimane's muses may be graying a bit (to say the least), but is he implying that Slimane should take inspiration from rappers instead of rockers ("rap the new rock and roll")? Either way, it's not a compliment. Maybe someone didn't get an invitation to the Saint Laurent show this week.