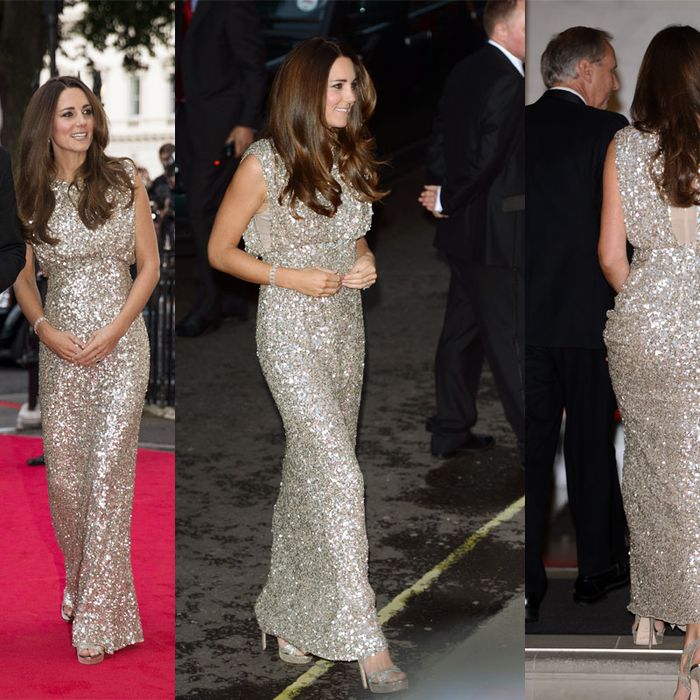 Kate Middleton in Jenny Packham.
Photo: Getty Images
There have been and will continue to be many post-baby "firsts" for Kate Middleton. Her first family portrait! Her first sans-baby outing! Her first "official" appearance! And so forth. But tonight is surely the most glamorous of such debuts, as it involves a shimmery gown, a red carpet, and a gala — the kind of royal trappings that us normal folks love to gape at from afar. For the Tusk Trust gala, which raises money for land and animal conservation in Africa, she wore a long, silver gown by Jenny Packham (who showed many princess-worthy gowns on her runway just two days ago), the same designer who custom-made the dress she wore home from the hospital with newborn Prince George. It's probably the sparkliest thing she's ever worn — can you think of a time she's worn head-to-toe sequins before? — but it was still conservative in cut, with a modest neckline and a lace inset in the back. She also wore silver Jimmy Choo platform heels and a diamond bracelet.
During a brief speech, Prince William said it was their first time leaving Prince George with a babysitter (they selected Jessie Webb, the 71-year-old former nanny to William and Harry, for the job), adding, "Excuse us if you see us nervously casting surreptitious glances at our mobile phones." Aw. But wait! They carry cell phones? Isn't that what the Helps are for?