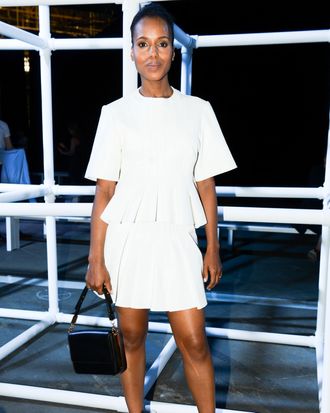 Kerry Washington
Photo: Jesse Lirola/BFAnyc.com/BFA NYC
Kerry Washington has had a packed schedule this Fashion Week, between attending shows, appearing as a guest-judge on Project Runway, and scouting outfits for her Scandal character Olivia Pope. Still, she found the time to be Glamour editor-in-chief Cindi Leive's guest of honor at Carbone last night to celebrate her October cover of the magazine. Of her work with Scandal's costume designer, Lyn Paolo, Washington explained, "We really build every single look together." While the show was on hiatus, she and Paolo took a special trip to New York to meet with designers.
So, what will the forthcoming season's wardrobe look like? "There's a lot more Dior this season," Washington said. "We met with a lot of gladiators in the fashion industry like Malcolm Carfrae [of Calvin Klein], and the team at Ralph Lauren was amazing because they really love the show. We met with Dior and Michael Kors, so we could be able to pull early from a lot of the collections. At Donna Karan, we actually wound up pulling a lot of stuff right off the rack. There's this beautiful purplish-grey [Donna Karan] coat that I wear, I think in episode three or four, that we just immediately we were like, 'That's Olivia Pope.'"
Does Washington get to keep any of the clothes? "No, we wanted to build a wardrobe for her, so we're always pulling from older pieces and re-using those with a new jacket, or that jacket with a new bottom, because I want women to have a sense that Olivia has a real closet," she said, referencing those recurring pearls (which are by design). "And all of her bags are Prada," said Washington. "Every single handbag — unless it's a flashback episode — every one is Prada. And they're all stunning." So did Olivia have some life-changing event that forced her to carry only Prada, or something? "That is actually very true, and you see it happen in this next season," said Washington. We'll take one too, please.