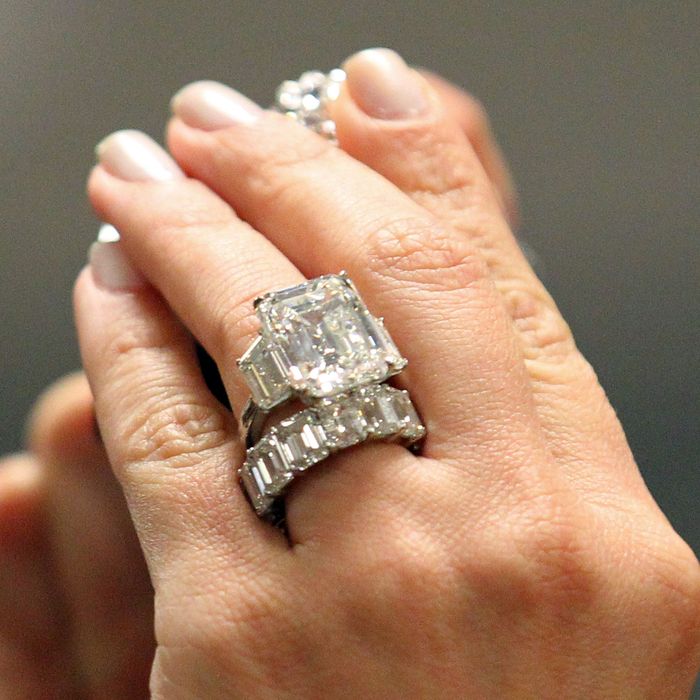 Photo: JB Lacroix/Getty Images
When their 72-day marriage crumbled, Kim Kardashian returned her comically large engagement ring to Kris Humphries. Now Kris is selling it to the tune of $300K to $500K, Us Weekly reports. Listed as "Property of a Gentleman," the ring turned out to be 19.81 carats, with perfect clarity and a mere I ranking in color. As far as curses go, I give the Kardashian diamond a C: less cursed than the Hope diamond, more doomed than Taylor-Burton.
The ring goes up for auction on October 15 and "a portion of the proceeds" will "benefit a charity." Christie's catalogue notes: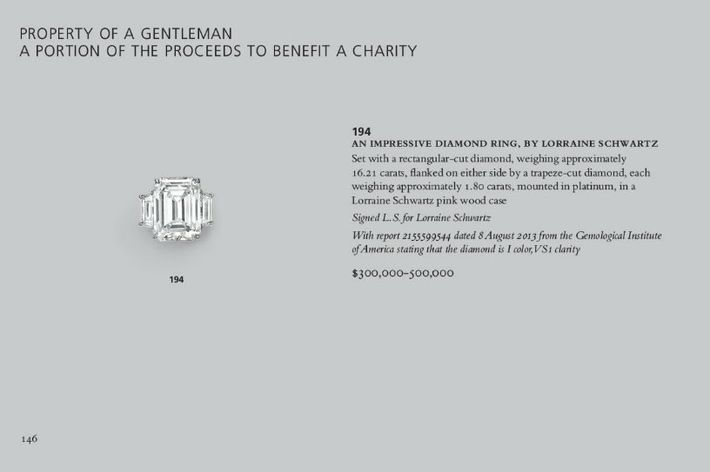 PROPERTY OF A GENTLEMAN
A PORTION OF THE PROCEEDS TO BENEFIT A CHARITY

194
AN IMPRESSIVE DIAMOND RING, BY LORRAINE SCHWARTZ

Set with a rectangular-cut diamond, weighing approximately 16.21 carats, flanked on either side by a trapeze-cut diamond, each weighing approximately 1.80 carats, mounted in platinum, in a Lorraine Schwartz pink wood case. Signed L.A. for Lorraine Schwartz.

With report 2155599544 dated 8 August 2013 from the Gemological Institute of America stating that the diamond is I color, VS1 clarity.

$300,000 - $500,000
"Kim has been waiting for the day he would auction it," a "source close to" Kim told Us.