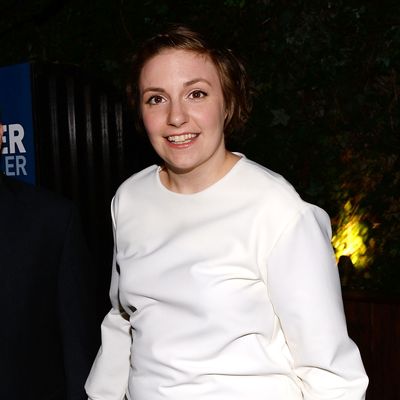 Photo: Andrew H. Walker/Getty Images
We assumed the first foray into Lena Dunham-related fan fiction would be a lengthy B-story recounting Jessa and Thomas-John's honeymoon, or pages from Shosh's diary, but no. No.
Brooklyn Magazine unearthed the first entry into the canon, and it's pretty foul.  Some creative writing major Someone wrote an exhaustingly long imagined Craigslist missed connection entitled "Lena Dunham's Dick - m4w - 26 (L train),"  taking the role of a college ex-boyfriend who dumped Dunham before Girls got big, who is now so emasculated by her success that he can't get it up during a sad tryst with a twee cipher of a woman whom he calls "Babyunicorn85."
Feel free to read it here. The "best" excerpts are slightly too explicit for this post, but just know it contains imagery of Dunham with a large penis and a raw chicken analogy that might make me a vegetarian. Either this anonymous scribe has some rote Freudian issues with female power, or maybe they want to be the indie E.L. James.
UPDATE: Brokelyn found the guy who wrote "Lena Dunham's Dick." His name is Harris Danow, and he's a Wesleyan grad in LA who works as a writer's assistant on The Newsroom. Danow shared the story on his personal website and Reddit before landing on the more viral medium of Craigslist. So. Exactly the kind of guy we imagined.