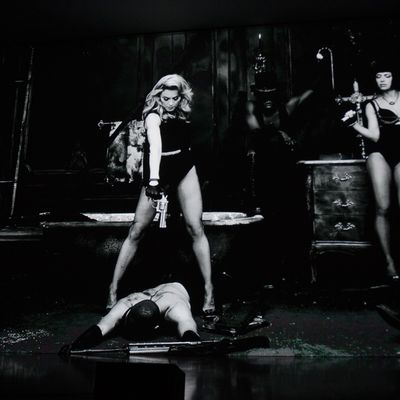 Madonna.
Photo: Kevin Mazur/WireImage
Last night at the Gagosian Gallery, Madonna apologized for the lack of seats. "When you find yourself in a revolution, you find yourself paying for everything," she told the small audience that included Chuck Close, Cindy Sherman, Donna Karan, Gaby Hoffmann, and Zac Posen. Most of them were huddled on the floor to watch the Vice-hosted screening for secretprojectrevolution, a new short film made by Steven Klein, Art for Freedom, and the pop star herself. "We have to start prioritizing when we pay for things," she continued. "So if it's between a sound system and chairs, we choose a sound system." Another priority: maiters in gas masks offering Champagne.
Of Art for Freedom, she explained, "I want to start a movement of people, of artists who are not worried about winning popularity contests, who are not worried about approval, who are not worried about whether their ass looks good — although it is important to have a good-looking ass." (She would know.)
The seventeen-minute black-and-white film that followed felt similar to a glossy, 21st-century update to her nearly 25-year-old "Like a Prayer" video. See for yourself, below:
The program also included Madonna's rendition of Elliot Smith's "Between the Bars," as well as more live music and dance performances centered on themes of bigotry and oppresion. When the heavy subject matter concluded, the evening turned into the kind of Madonna after-party we hoped for: Her dancers formed a circle, Madonna reappeared in a new dress and made them take their shirts off, and her son Rocco showed off his moves. Just as guests were filing out, a high-heeled, red-lipped Lindsay Lohan showed up for a few minutes — a sure sign it was well past everyone's bedtime.