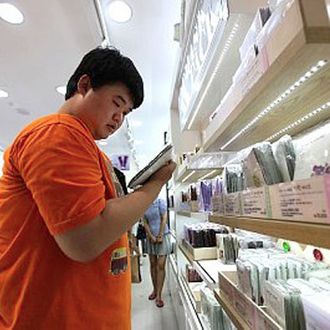 Photo: Hye Soo Nah/Corbis
There are lots of men in the world who wear makeup: Actors, news anchors, South Korea's flower men, customers of Marc Jacobs and Tom Ford. Today, Slate tech columnist Farhad Manjoo joins their ranks, experimenting with professional foundation (too pretty), drugstore foundation (too orange), and airbrushed HD foundation (just right). "I look more put together; the effect is roughly the same as if I'd combed my hair or put on a well-ironed shirt," he writes. "I look like I took the time to bother about my appearance." He doesn't plan on using makeup every day — he is married and has a job, he explains — "But if I ever need an extra boost, the airbrush will be right there waiting for me." So maybe men like Bustle founder Bryan Goldberg should make knowing the difference between concealer, mascara, and eyeliner their job! 
It's also possible that Manjoo has just discovered the makeup placebo effect, wherein you feel more confident just for having taken the time to take care of yourself. (Not that there's anything wrong with that. You should wear makeup for you, guys, not for some girl/other guy!) Cut staffers, for what it's worth, couldn't tell bare-faced Manjoo from made-up Manjoo. Does it mean our boyfriends weren't lying when they said they didn't even notice the difference with makeup? Do we "prefer the natural look," too?