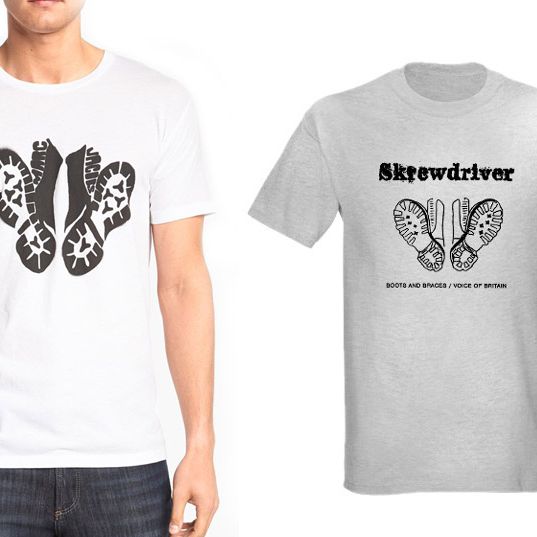 Photo: Nordstrom, Cafe Press
Marc by Marc Jacobs didn't mean to crib imagery from a neo-Nazi band, a representative for the company says. Following the revelation that a $68 T-shirt bore eerie resemblance to art associated with white-power rock band Skrewdriver's 1987 LP Boots & Braces, a spokesperson told the Cut:
It has been brought to our attention that the imagery on a T-shirt of ours is similar to that used by a band. We were not trying to make a connection to that band or make a statement of any kind. We have removed the stock of the shirt from our own stores and offer our retail partners the same opportunity.
Skrewdriver's lead singer was a self-described neo-Nazi and white-power rock-music organizer until a car crash killed him in 1993. Famous lyrics include, "Smash their yellow faces, kick their fucking bums / When they plead for mercy, we will show them none." And it gets worse from there.
Nordstrom pulled the tee; it's still on sale at Saks Fifth Avenue. Ironically/disgustingly, "Boots & Braces" is actually a song about the resilience of skinhead style, in spite of bans.