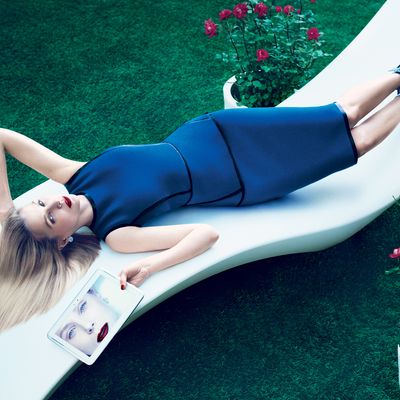 Photo: Mikael Jansson fo Vogue
In an interview with Charlie Rose during IAB's Advertising Week conference, Marissa Mayer was asked to discuss the Vogue shoot that featured the very un-CEO photo of her in a snug blue dress, lying upside down on a chaise, a pose Time said was "inappropriate for the CEO of a major tech company" (what, you don't think Mark Zuckerberg hangs out like that sometimes?).
After asking her to discuss her strategy for Yahoo, and then slowly segueing into themes of gender and leadership, Rose got Mayer talking about her Vogue spread, asking her (and almost shaming her a little bit), "Will we see Larry Page on the cover of Vogue?" This is how Mayer replied, reports Mashable:
"It wasn't the cover," Mayer corrected, clearly embarrassed. She went on to say that the photo was unplanned and "out of necessity." The photographer Mikael Jansson's assignment was to capture an unconventional CEO in an unconventional pose — sitting ladylike on the chaise wasn't going to cut it. When Jansson suggested she lay upside down, she hesitated. He assured her it would "look good" and so she went for it.
Was Vogue to blame for putting Mayer in an uncomfortable position (puns) during the photo shoot? Or was it Rose who put Mayer in a position where she felt she needed to retroactively act ashamed of her supermodel moment in front of her peers? How should Mayer have responded? Who knows, though I would love to know what Larry Page's Vogue spread might look like.