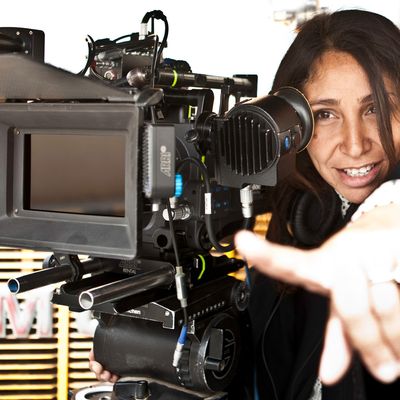 Photo: Courtesy of Sony Pictures Classics
It's eight p.m. in Bahrain, and the squeals of children resisting sleep can be heard upstairs at the Al-Mansour/Neimann house. Saudi Arabian filmmaker Haifaa Al-Mansour's husband Bradley Neimann, an American diplomat, is attempting to goad Adam, 5, and Hailey, 3, into bed after a long day of cupcake-decorating and playdates.
"I used to get more [death] threats," says their mother, talking to me over Skype downstairs. "Saudi was more conservative, now it's changing. People aren't as militant."
But Saudi Arabia is still a country ruled by Sharia law. In public, women are segregated by gender, and must be accompanied by a male guardian. They are required to wear a full-body black cloak, or abaya, and are forbidden to drive cars. All of which is to say that 39-year-old Al-Mansour's first feature film, Wadjda —  shot quietly, and entirely, in the Kingdom of Saudi Arabia — is no small triumph.
"It's conservative, but it is rich," Al-Mansour says of her home country, which is the world's second largest oil producer and exporter. "People have access to a lot of things and still cling a lot to the tradition. And there's so much to tell. So many contradictions."
The film, which screened in New York and LA last week, will open nationally this weekend. And Wadjda isn't a pioneering effort only in that it was made by a woman; it's also the first movie, period, to be shot exclusively in Saudi Arabia, according to distributor Sony Pictures Classics. When Wadjda was named the country's Best Picture nominee last week, it marked the first time that Saudi Arabia, a country without commercial movie theaters, has ever submitted a title to the Academy. (And for what it's worth, Oscarologists note that Sony Pictures Classics has won the statue for Best Foreign Language Film six out of the past seven years, most recently with Amour.)
Al-Mansour's film follows the spunky 10-year-old Wadjda as she saves up for a bicycle to race the boy across the street. The title character, played by newcomer Waad Mohammed, is far from a model of piety. Wadjda wears Chuck Taylors under her abaya, paints her nails turquoise, and collects mixtapes. But when a Quran reading competition with a cash prize is announced at her school, she enters, determined to win the money and buy the bike.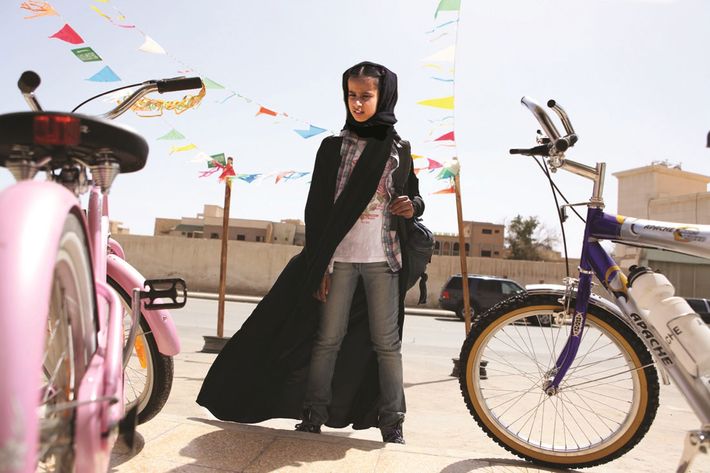 Financing the film required similar tenacity. "It was hard to find money in the Middle East because people didn't believe in a film like this, a simple story about a girl in a bicycle. They want more drama. They like big things. Stoning, rape, horrific things," explains Al-Mansour, regarding the challenge of finding producers in the region. "If you're talking about women's rights, you need to bring a story of that kind. And these are the type of films that are more common coming from the region."

The filmmaker ultimately paired with a German production company and received additional funding from Prince Al-Waleed bin Talal, a progressive Saudi prince known for his efforts to empower women — for example, advocating for their right to drive. "He believed and supported it," Al-Mansour says.
The movie took five years to complete, and due to strict gender-separation laws, Al-Mansour directed the outdoor scenes while wearing an abaya and sitting inside a van, using a radio to communicate with her actors and production crew. But she's impressively upbeat about the challenges she faced: "It was difficult. There were times when I [was in] this confined place, and everybody's outside, and I'm shouting, 'Do This!' or 'Do that!' My voice was hurt. And it's not hard to go out there. But it worked out, and I think it made me work harder."
Al-Mansour grew up in a small Saudi town, the eighth child in a family of twelve brothers and sisters. Her father, a poet, raised his kids on Jackie Chan, Bruce Lee, and Disney movies. "We had access to books, and films, and songs, and things that were considered corrupt at that time," Al-Mansour says. "So we were always outsiders somehow. We had lots of relatives in that small town, but we didn't feel like we fit in."

At the time, Saudi Arabia was stable, but even more conservative. "I took my mother for granted for so long," Al-Mansour says. "When we were kids, she didn't cover completely. She was always challenging the situation. I think she's my idol."

When Al-Mansour returned to Saudi Arabia after graduating from the American University in Cairo, she picked up filmmaking as a hobby to shake off post-college doldrums. "I felt really invisible," she says of the period. She went on to make three short films, employing her siblings as her actors and crew, and a 2005 documentary, Women Without Shadows, that profiled progressive Saudi women. (She met her husband at a State Department screening of the documentary.) Conservatives derided the film as blasphemous, and Al-Mansour received terrifying threats — like, "Your coffin is prepared and we will try to find you." She remained undeterred.

"You sometimes have to be brave when you are very, very afraid," she says. "You just have to go through it. Close your eyes and do it."
While we are chatting, Hailey sneaks up on her mother, and a head full of brown curls overtakes the Skype frame. "Do you want to say hi?" Al-Mansour asks the 3-year-old, who responds by curling in closer to her mother. Al-Mansour says she is determined to continue shooting in Saudi Arabia, but doesn't want to make movies that feel like a lectures.
"I know it's a harsh place to live, but I didn't want people to feel like it's the end of the world," she says. "Let's not complain as much, but let's try and work to make the situation better."