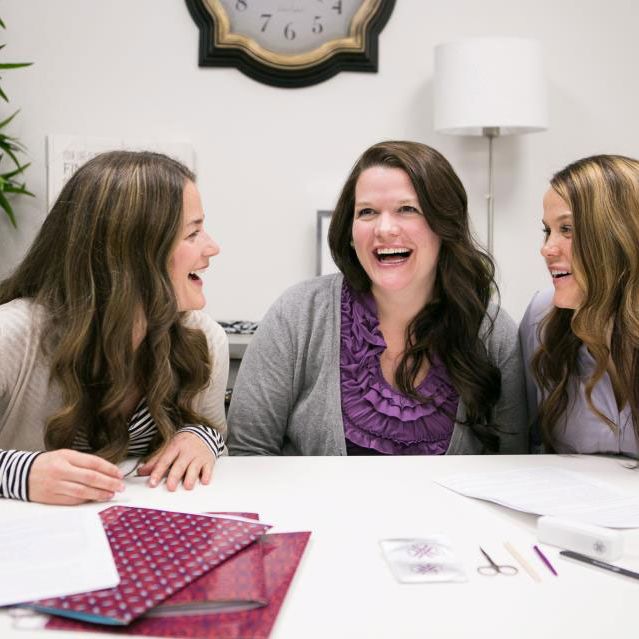 From left: Keri, Christy, and Lyndsey.
Photo: Courtesy photo
Say you wanted to wear tiny replicas of your baby's sonogram on your nails. "Those actually get requested a lot," says Christy Hepworth, 33, a co-founder of Jamberry Nails, which offers custom nail wraps based on pictures people send in. "People do them for baby showers." Cats and flowers are also popular. "Sometimes people want naked body parts," adds her younger sister and business partner, Lyndsey Ekstrom, 29. "We just send them an e-mail saying we can't do it."
In addition to special requests, Jamberry Nails offers hundreds of nail-wrap patterns that range from polka dots to university logos to cow print. Founded in 2010 by Christy, Lyndsey, and their oldest sister Keri Evans, the Lindon, Utah–based company started in Christy's basement and now consists of almost 50 full-time employees.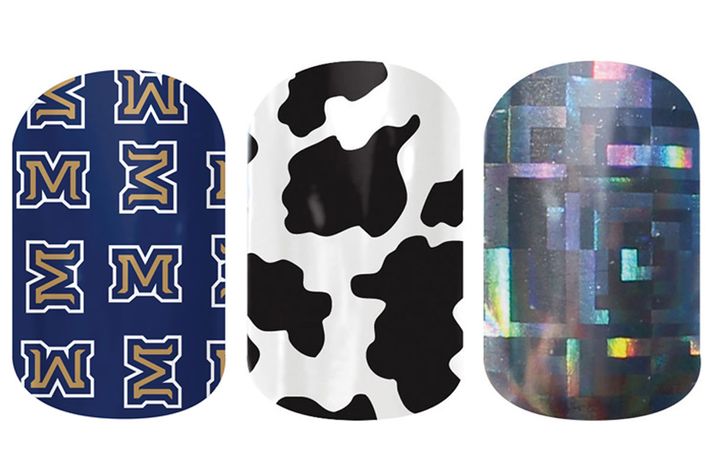 The idea for Jamberry originated in 2010, when Lyndsey went to a salon and got purple-and-white zebra nail wraps on her toes. While watching the pedicurist bond the acrylic sheets to her nails with nothing but a few swipes of a hair dryer, she had a revelation. "She came home and was like, 'Guys, we could seriously make this!'" recalls Christy.
With the help of Christy's husband, Adam, who had previous business experience, the sisters started testing the product that same October, and launched an e-commerce site in June 2011. Their timing was incredibly fortunate: They managed to corner the nail-wrap market just before nail art became hugely popular on red carpets and runways (as Christy puts it, "before the bajillion nail-wrap companies"). And when they started, Jamberry's business model was a novelty — rather than sell nail wraps through licensed nail salons, which was standard practice at the time, they sold them directly to customers online. As the company grew, the sisters started hiring "consultants" to hold events at people's houses, sort of like Avon ladies. They now employ over 7,000 part-time consultants nationwide.
The three sisters live ten minutes away from one another, and claim they never fight. "We're all moms, and so the business is like a fun break from our kids," says Lyndsey. "We get together a few times a week to brainstorm new patterns and test new products, just us girls." The Cut chatted with Lyndsey and Christy about nail trends, running a family business, and more weird nail-art requests over the phone last week.
What's your customer demographic like?
Christy: We have lots of consultants who are out there having home parties and sharing cards with people who probably wouldn't see nail wraps otherwise. You know, just regular moms who wouldn't find the product or even be willing to try it — women who don't go to the salon regularly. Our business model means that doing nails can become a social experience.
Is there a specific age range?
Lyndsey: Just last weekend Christie put nails on her great-grandma, and she rocked them. She picked them out on her own, too — the silver metallic. Our consultants put them on their babies, because they're nontoxic, and then we have grandmas wearing them. I think we have more a psychographic then a demographic.
I think it also transcends the fashion cycle because it's customizable.
Lyndsey: People really like it because it's so personal — you're literally wearing your own style on your fingers. If you're super fashion forward, you can choose an Ikat print, or if you're a soccer mom you can literally have soccer balls on your hands. You can communicate your identity to the world through nail art.
Do you ever get really weird requests for custom nail wraps?
Christy: People can just send in a picture and we can make a nail wrap out of it, and we're always so surprised at the photos that come in. Like, really? But we're glad that we can cater to so many different styles. Just last week, we got an e-mail asking if we can do a marijuana leaf. We were like, "Um, it's plant life, I guess?"
Lyndsey: We always get a lot of requests for whatever movie is trending at the time. We have a lot of hunters who request guns and camo.
Wow.
Christy: Yeah, weird.
Lyndsey: During Fashion Week, we partner with certain designers who want to do a nail that matches a signature pattern in their collection. Ann Yee did that this season.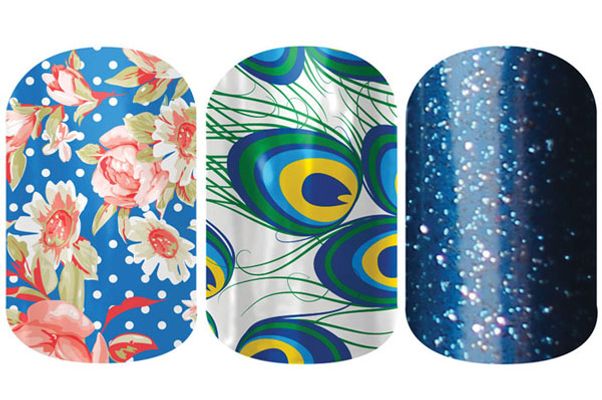 What were your backgrounds before you started Jamberry?
Lyndsey: Keri is just a mom, and I'm just a mom. I did massage therapy in the past, so I worked in a lot of salons, but I'm not doing that anymore — just the mom thing and the nail thing.
Christy: I was a teacher. I actually stopped teaching before we started the nail business, after I had my second child. Then we started doing nails, and now it's way crazy.
How did you get your name out when you first started?
Christy: At the beginning, we did a couple of Groupons. We also went to an expo — made a little banner, and got a table and everything. Tons of people loved the product and placed orders. Then we were mailing out orders from the basement at all hours of the night.
Do you put them on your kids?
Lyndsey: I put them on my girls. They love them. My son always wants me to put one baseball on his finger.
Christy: My boys sometimes request them, too.
Anything new in the works?
Christy: We also sell a lot of college-themed wraps, so we're trying to partner with some college bookstores. We're also going to add to our lacquer line, because someone might not be ready to try on these crazy wraps but maybe they're interested in regular nail lacquer. We want to have something available for everybody.