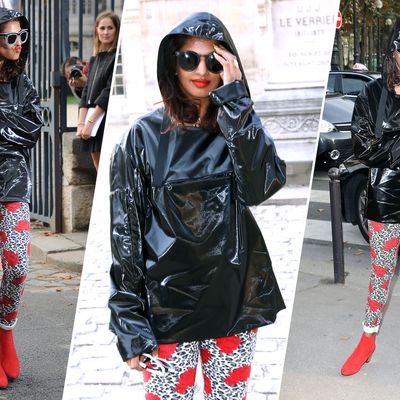 Photo: FilmMagic; Getty Images; WireImage
There are always a few celebrities who lay low throughout fashion month, only to emerge with great fanfare during the final shows in Paris. This season, that role has been adopted by M.I.A., who showed up at the Balenciaga show this morning in a pair of very loud, floral-print leggings, bright-red booties, and a hooded rain slicker, even though there was no sign of bad weather whatsoever. Usually the job of wearing exciting pants to Balenciaga falls to Kristen Stewart — who, despite her ongoing relationship with the brand, has been absent from their shows since Alexander Wang took over — so thank goodness someone picked up the slack.
After M.I.A. and her poncho had sufficiently overshadowed all the other celebrities in attendance, which included Salma Hayek and Anna Dello Russo, she settled into her front-row seat and proceeded to mention some major news to WWD: She's collaborating with Donatella Versace on a collection that's "coming out in two weeks," she said. WWD deduced that the project is for Versace's diffusion line, Versus, which was formerly helmed by Christopher Kane but now partners with a different designer (or, in this case, celebrity) every season.
Although this announcement seems oddly late — why are we hearing about a collaboration just two weeks before its unveiling? — the timing is ripe for M.I.A. to drum up as much publicity as possible. Her new album, Matangi, comes out on November 5, so get ready to see a lot of her in the coming months.