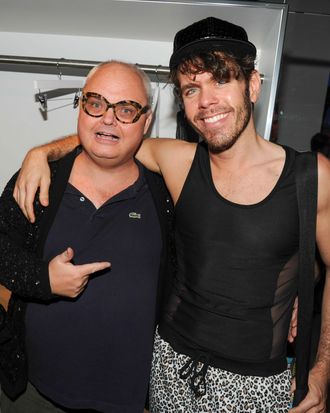 Mickey Boardman and Perez Hilton.
Photo: Neil Rasmus/BFANYC.com/BFA NYC
Paper editor Mickey Boardman is known for his love of sequins, Lacoste shirts, and loud accessories, and his outfit at last night's Fifth Year Party Atop the Standard was no exception. "It's L'Wren Scott," he said of his sparkly cardigan. "They had to put in extra panels for me because I don't think she designs for a large, paunchy man, but she's seen me wear it and loves it." He prepped for Fashion Week by shopping at Ikram in Chicago, where he bought "a bunch of new things … some Lanvin, a Céline pullover, and my first-ever Céline bag." His dressing philosophy? "I'm going to really try and bring it this time because everyone complains that people don't dress up like they used to and I feel like it's our responsibility to be fabulous," he explained matter-of-factly. "My big thing is to be half underdressed and half overdressed and mix it together." 
The secret to his outlandish style, he says, is confidence. "You have to fucking own it. If you think it might be wrong, it is wrong," he said. "I have worn crazy clown outfits and thought they were the best thing in the world and they were. And other times, I'll look in the mirror and be like, 'Oh my God, this is a disaster,' and once that's in your head, it IS a disaster." Has he ever had an actual fashion disaster? "I used to always wear my pants with a safety pin, and once the safety pin broke and the pants fell down," he said. "Luckily, I was on the way to my office and I had clothes there, but if I'd been at a show, I would have been having a pants-off dance-off." But he would have owned it, no doubt.