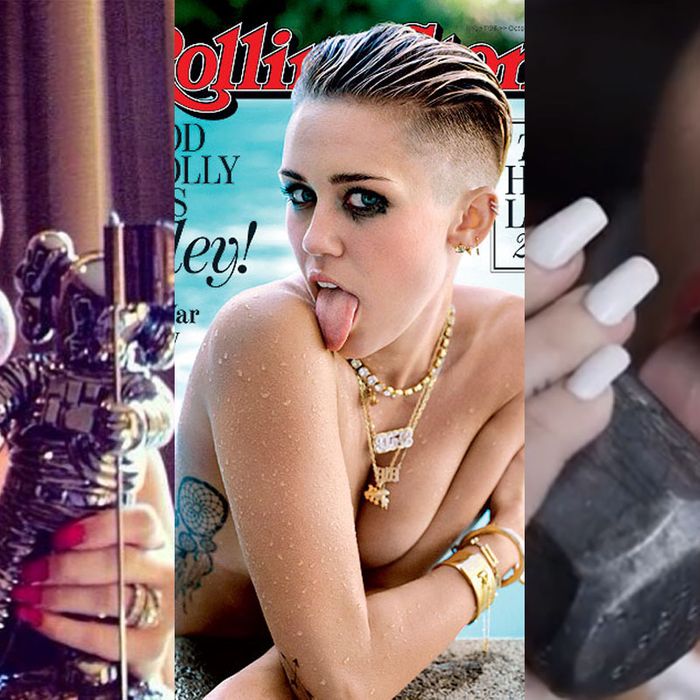 Miley Cyrus, wagger of tongues, appears on the cover of Rolling Stone naked and licking her own right shoulder. "Chick, don't stick out your tongue if it's coated," Cher scolded the starlet after her MTV VMA performance. "That tongue has been out as long as I've known her," makeup artist Pati Duboff joked alongside a photo of a young Miley sticking out her tongue. 
So what's up with Miley licking everything? Is she hungry? Does she suffer from macroglossia? A study of Miley's licking oeuvre reveals nine distinct types of Miley Cyrus licks.
1. THE SMIZE-LICK: Rolling Stone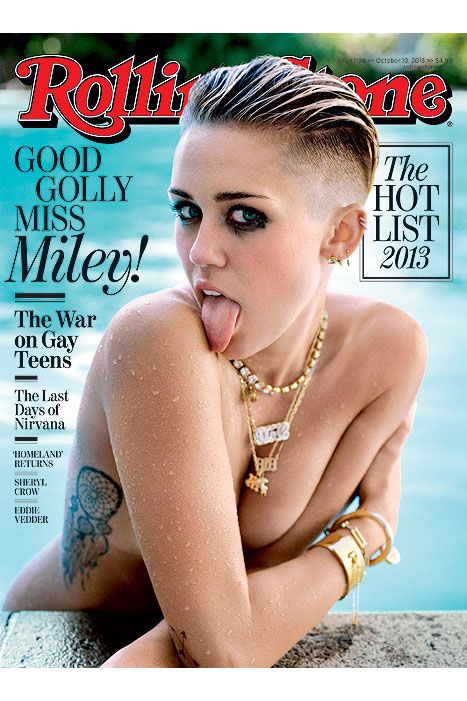 What Is Miley Licking? Her shoulder.
Why? Looks cool; compatible with arm-bra.
What Does It Taste Like? Defiance. In the accompanying interview, Miley addresses criticism of her infamous VMA performance: "I wasn't trying to be sexy. If I was trying to be sexy, I could have been sexy. I can dance a lot better than I was dancing." She does not think her tongue is sexy.
2. THE STAGE LICK: iHeartMusic Festival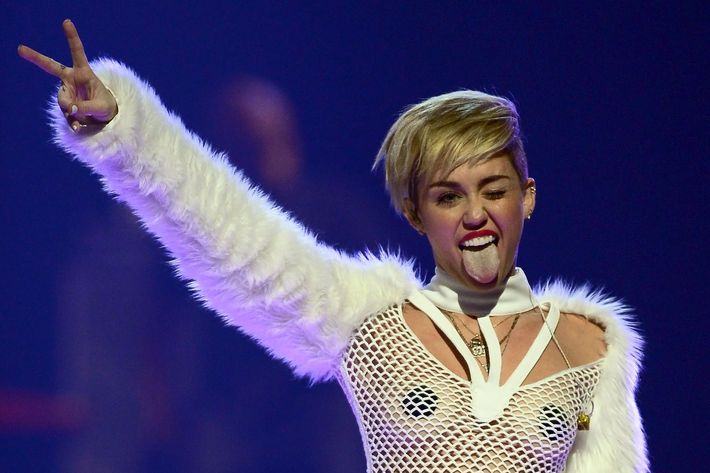 What Is Miley Licking? Her chin.
Why? Rocking out. Miley's main stage provocations used to be girl-on-girl almost-kissing and pole dancing. Her new ones are self-licking and twerking.
What Does It Taste Like? All the carbohydrates one must forego to look like this in a white mesh minidress with black pepperoni pasties: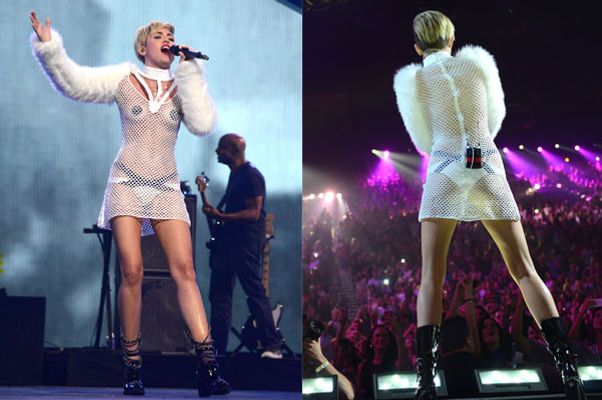 3. THE LICK OF LOVE: Terry Richardson's Tumblr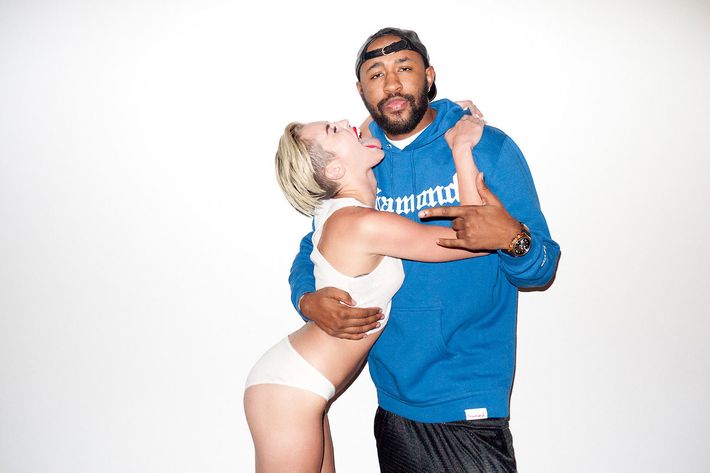 What Is Miley Licking? Producer Mike Will Made It.
Why? She collaborated on a rap song with him. As in, Miley Cyrus rapped. Now there are dating rumors, of course.
What Does It Taste Like? As cool as straddling a basketball hoop while wearing a crystal bikini top and fondling a crystal ball (which Miley does in their music video) feels.
4. THE LICK OF SORROW: "Wrecking Ball"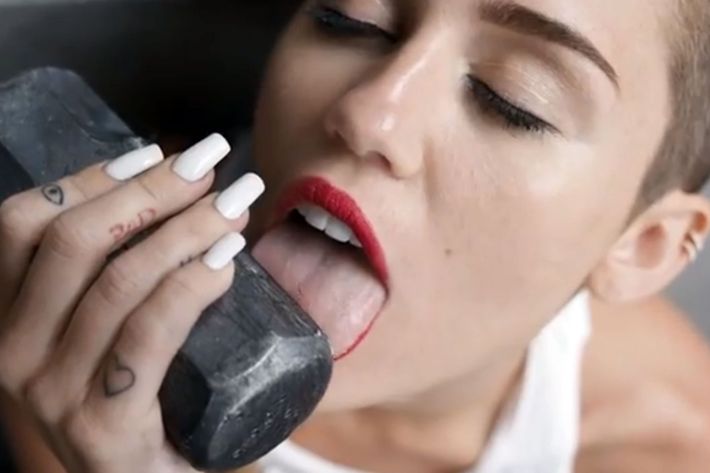 What Is Miley Licking? Sledgehammer, while weeping about a man who "wrecked" her.
Why? The sweetness of destruction; the sexiness of sorrow; the availability of double entendre. Or maybe it's like when a house pet channels separation anxiety into OCD, licking compulsively until it gets a lick granuloma?
What Does It Taste Like? The hands of prop assistants, same as the wrecking-ball chain she rubs through her mouth.
5. THE BUTT LICK: MTV VMA Performance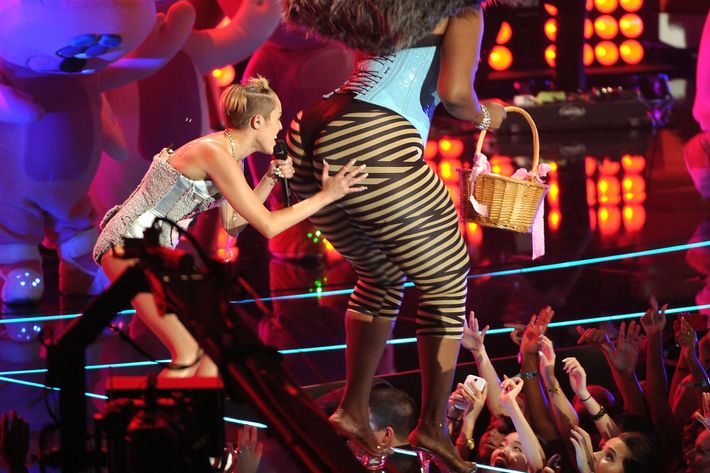 What Is Miley Licking? A woman's butt.
Why? Provocation; exploring puberty; kind of into analingus; cultural imperialism; modern minstrelsy; it's her house, she can do what she want to.
What Does It Taste Like? Friendship, according to Miley. "Those aren't my 'accessories.' They're my homies," she told Rolling Stone when asked about the accusation that she uses black women as props. "Amazon Ashley? They're friends in real life. They go out to lunch," Miley's stylist Lisa Katnic tells the Cut.
6. THE SELF-PROMOTION LICK: Moon Man Instagram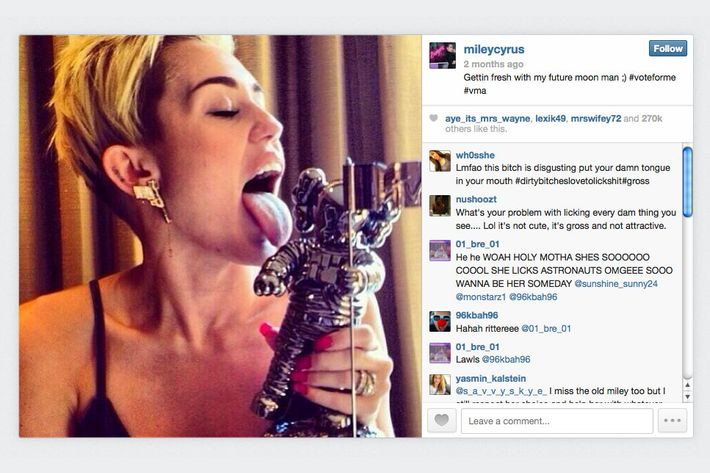 What Is Miley Licking? An MTV VMA Moon Man trophy, one month before the show.
Why? "Getting fresh with my future moon man ;) #voteforme #vma"
What Does It Taste Like? Britney Spears.
7. THE CREEPY DOLL LICK: "We Can't Stop"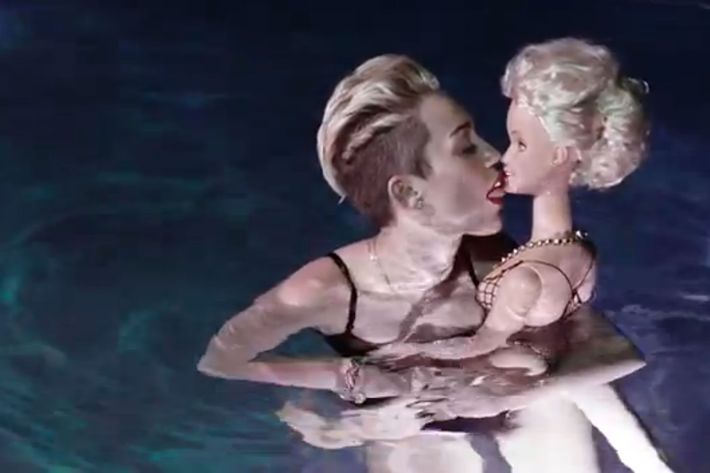 What Is Miley Licking? A doll that resembles her.
Why? Narcissism; agalmatophilia. She can't stop, she won't stop, maybe she has pica?
What Does It Taste Like? Reinvention.
8. THE PRODUCT-PLACEMENT LICK: Beats Pill Tweet
What Is Miley Licking? Beats Pill music speaker.
Why? To hype the "We Can't Stop" music video, featuring Beats Pill product placement.
What Does It Taste Like? Money.
9. THE DOG LICK: Tweets About Dogs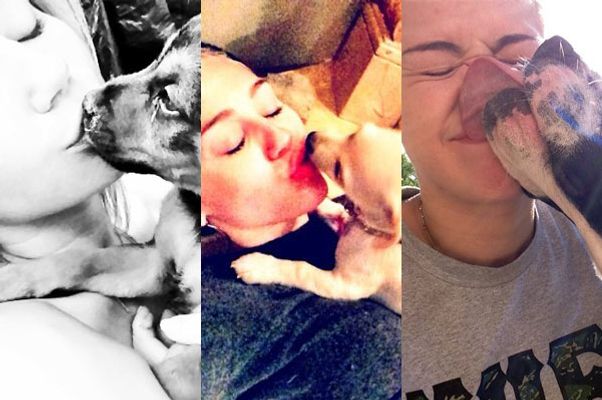 What Is Miley Licking? Technically, the dogs are licking her.
Why? She feeds them.
What Does It Taste Like? Human.