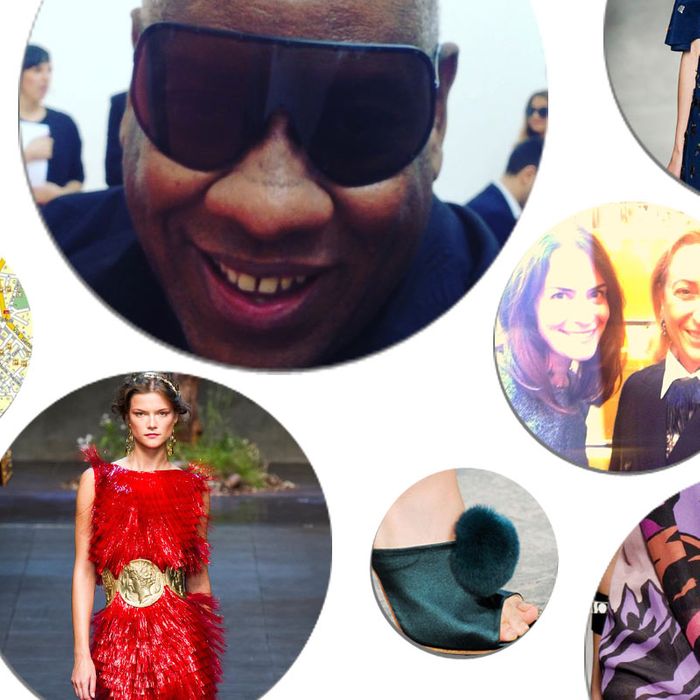 Friday, Saturday, and Sunday were packed with shows that ping-ponged between megawatt sex appeal, with Versace, Cavalli, and Pucci, and studies in creative shape and volume, at Bottega Veneta, Jil Sander, and Marni. Each collection seemed to ask the age-old question: Do you dress to impress other women or do you dress to impress men? If you didn't want to pick a team, there were also exuberant moments at Etro, Missoni, Sportmax, Ferragamo, Tod's, and more. And don't get us started on the glamour of Dolce & Gabbana, sure to be coming soon to a red carpet near you.
Everything started late on Friday. Except me. I was bright and early to the 10:30 a.m. Emporio Armani show as my printed schedule stated, but I was actually scheduled for the second 11:30 showing. Oops. I killed time at a nearby café called God Save the Food, listening to Italians ask one another how they were doing, and answering, "Supa-Bene!" Around 12:15 p.m., I too got to see the shimmering dresses in muted pastels, some mixed with bold black straps, and crazy pin curls.
Magically, no one missed Sportmax at 12:30 p.m. A good thing, because there were very cute mules with pom-poms like scoops of gelato and dresses with polka dots the size of cookies. Or maybe I was just ravenous from doing nothing but looking at skinny ladies in dresses.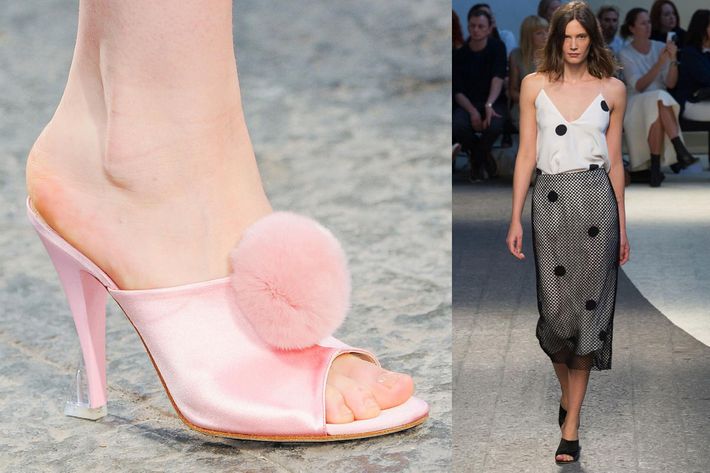 Fortunately, Etro was serving rolls with salami, to accompany their paisley-filled parade of silky, glam ensembles that I can already imagine gracing the bronze bodies of Montauk's Surf Lounge bar.
Before Versace, I stopped by the Prada cocktails at the new store. Where this happened … (as Eva Chen put it, "Fangirls FTW!"):
The music at Versace was so loud that the hairs on my arms stood on end. The show ended with an aggressive (but kind of great) rendition of Drake's "Versace." Model Kasia Straus cut an elegant path as always, in a black and silver gown that dazzled, both coming and going.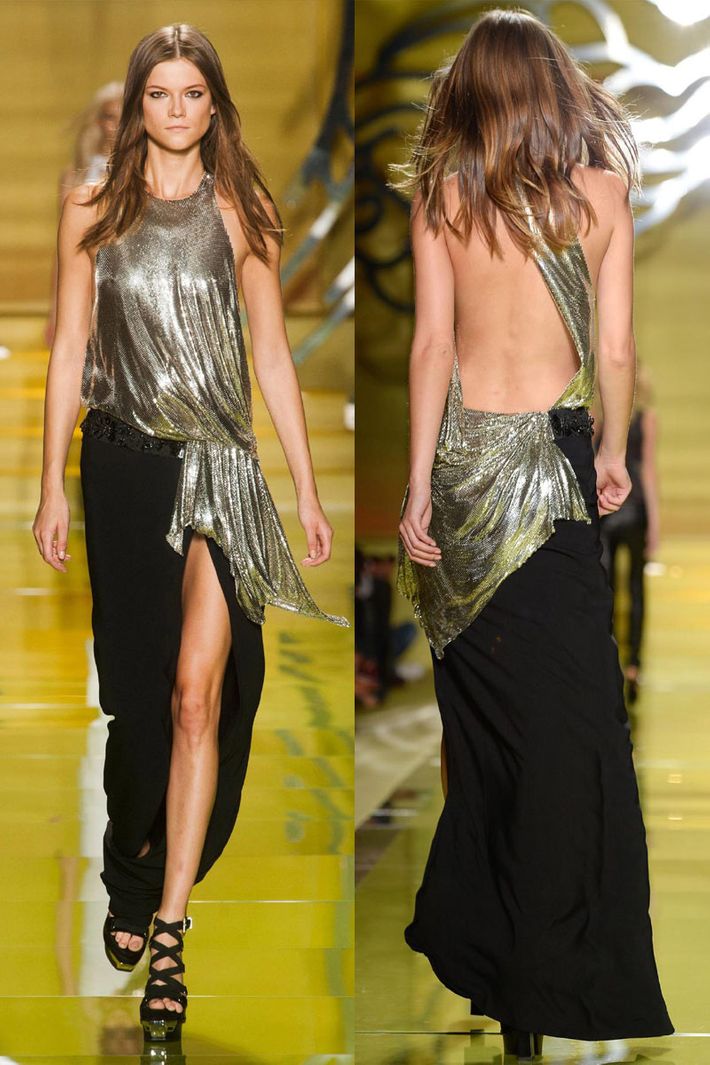 Saturday began with the sensual yet civilized ruffles of Bottega Veneta, then quickly became a festival of bling and glory at Cavalli. Really, you should zoom in on some of these clothes; they are worth the time — at least as long as it must have taken Joan Smalls to get into these sandals.
Jil Sander took us back to minimalism with a collection that felt both more inspired and less commercial than last season. There was a compelling mix of simple coats, sculptural, cropped pants, and artistic prints. An iridescent dress paired with gold creepers left a big impression.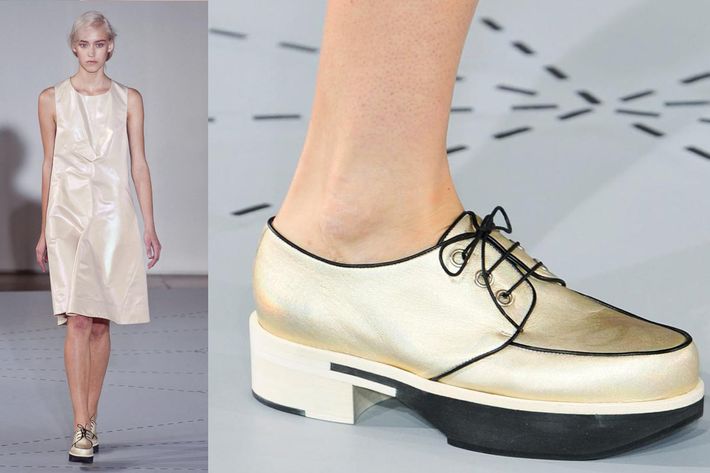 Later, to clear my head after all the shows, I walked around the gallery-filled neighborhood of Brera and stumbled upon a perfume store called Profumo. Next door I found many cute gifts for my kids at Rigadritto, a hole-in-the-wall toy shop.
By 8 p.m., we were back in business at Pucci. It was all about sexy beads, beads, and beads. Oh, and beads. I might even have had dreams about beads.
By the time Marni began on Sunday morning, it was all beginning to blur a bit. But then I sat next to André Leon Talley, who told me that he'd seen the earlier show and loved it so much he was staying to see it a second time. In one of the more effective moments of the week, the models walked in total silence. No pounding music, no dramatic lighting, just outfit after outfit inflected with Japanese influences and sporty moments including glittery, platform-Tevas, and visors that will make the world's oddest forehead tan lines. As the looks emerged, they became more and more embellished, ending with a series of phenomenal skirts covered in thousands of florets and jackets encrusted with giant beads.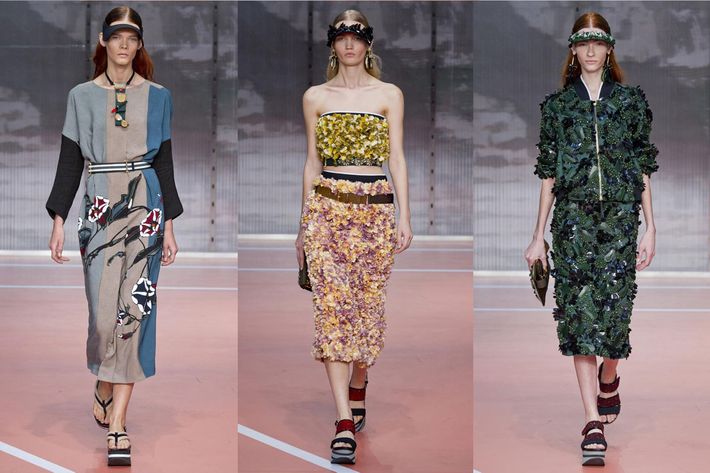 But the fun hardly stopped there. Everyone Instagrammed the sensational golden army of girls (not to be confused with Golden Girls) in the Dolce & Gabbana finale, which was understandable. But the dress that walked just before was also stunning: a red piñata, like something from a late Fellini film or that Confetti System might make.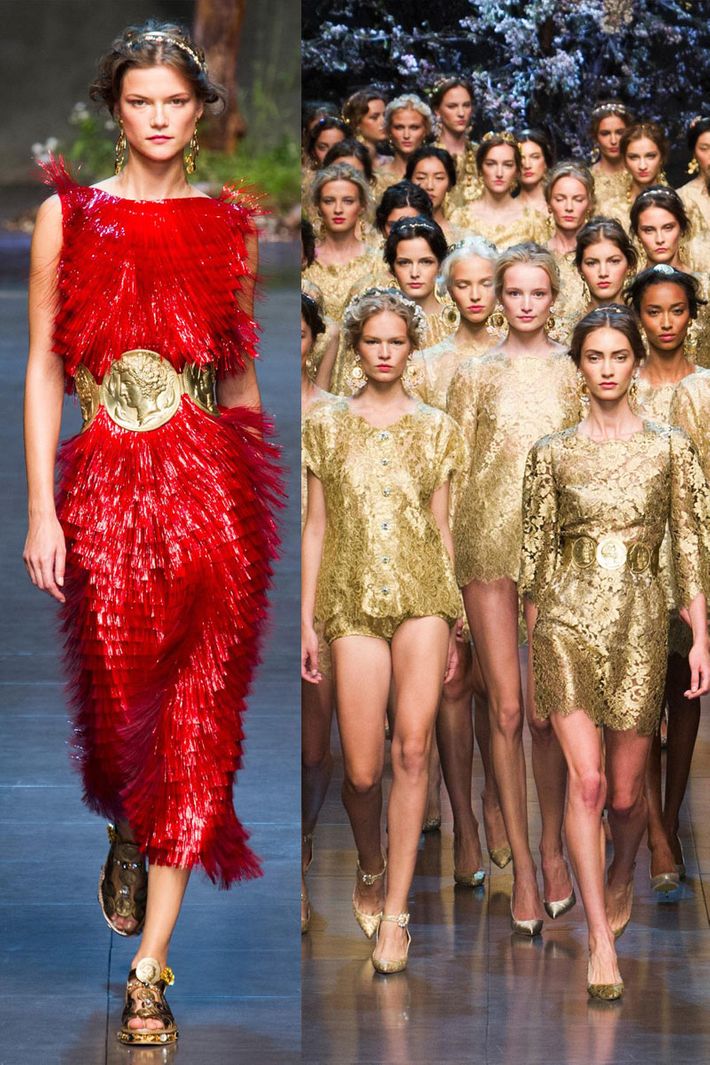 The weekend came to a rockin' end with Fausto Puglisi's brash tribute to the Sunset Strip by way of Rodeo Drive. The collection successfully mashed up a "Welcome to the Jungle" hair-metal aesthetic with long gowns you might wear to the Vanity Fair Oscar party. Many pieces were adorned with palm tress in gold beads, from heels to molded miniskirts, and bomber jackets. A flared leather skirt loaded with buckles and harness bra-lettes would be right at home in French Vogue, circa Carine Roitfeld's tenure. A little scary, in the best possible way, and a fitting end to a whirlwind week.