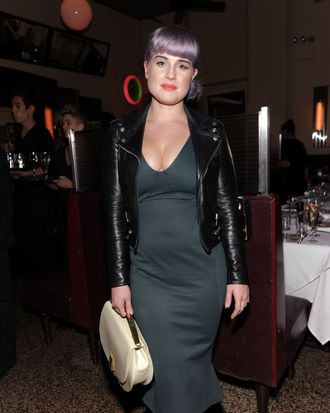 Kelly Osbourne.
Photo: Rommel Demano/2013 Rommel Demano
Backstage yesterday before Zac Posen's spring 2014 show, Kelly Osbourne updated the Cut on her forthcoming clothing line. "It's still a very, very long way — a good year — before anyone will see anything," she said, adding that she is currently working out marketing and price details. But she can confirm that it'll include a full range of sizes. "They will go from a size 0 into the plus sizes. And it's also not fair to charge people more money the bigger the sizes they get. Size 0 will be the same price as a size 24," she said. "This isn't plus size; this is everything. I am putting elastic in everything, so it gives."
As for her inspiration, Osbourne said she had a revelation when she tried on a friend's maternity clothes. "It was like having Spanx in your jeans! So I figured, why can't you rework everything to hold you in like a bandage dress does, but is not necessarily a bandage dress?" So where will one purchase these newfangled bandage jeans? "This is the exciting part that you guys will have to see when it comes out, and half the reason why it's taking a little bit longer," said Osbourne.