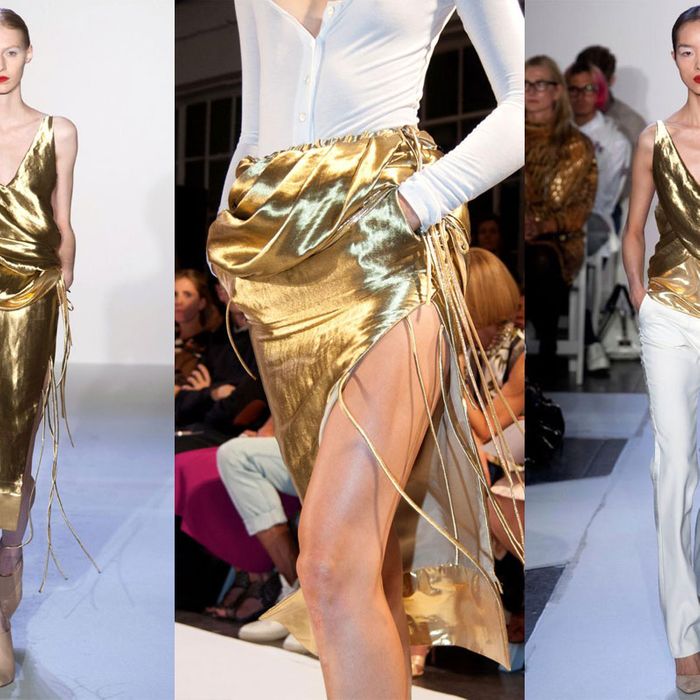 We are sifting through the onslaught of beautiful clothes coming in during Fashion Week and pinning the ones that we love the most. Why do we pin them? Because they're significantly on-trend, insane, or, sometimes, we just plain love them.
3.1 Phillip Lim presented a subdued, elegant take on a psychedelic trip, the kind one might take at Burning Man, complete with models crunching down its Himalayan salt runway. Our favorite was a warm ochre color juxtaposed against a bright cobalt geode-patterned sweatshirt. Somehow earthy, yet still fanciful.
Earlier in the week, Altuzarra's silk tassels, side slits, midnight navy, and onyx leather fringe were amazing, but clearly the gold and silver lamé were the most Pinterest-worthy highlights to this French seaside chic wardrobe.
Derek Lam opened his spring collection with huge gingham-check looks; somehow the enlarged gingham abstracts the parochial, hokey feel that we usually associate with Dorothy's small-town Kansas girl look. Way to reinvent an old American classic. We're also very interested in the wicked look the model Hanne was wearing — an amalgam of silk fringe, contrast piping, low-slung, wide trousers, and shoulderless insouciance.
Delpozo. Remember the name because Josep Font is injecting some frothy confection and couture technique into our more commercial NYFW. This is the second season that this Spanish collection has been a highlight on our radar.
We are also now open to the idea of random strands of vintage Weiss and Swarovski crystals pinned pell-mell on an outfit, as suggested by Thakoon's runway.
Last spring, a slew of designers included anoraks in their collections, trying to make them happen, which we never understood. Very few people probably buy high-fashion anoraks, and they're hard to work into an outfit as they have a tendency to engulf it entirely unless they unzip. But lo, in the midst of  Opening Ceremony's runway show yesterday, there was Look 23, an anorak that was simple enough, and still unusual with it's origami trompe-l'oeil front, that forces us to recant an earlier statement:
:::Slow clap::: to Humberto and Carol, for making an anorak that could look equally great with jeans as it could with ostrich feathers. You get a pin!