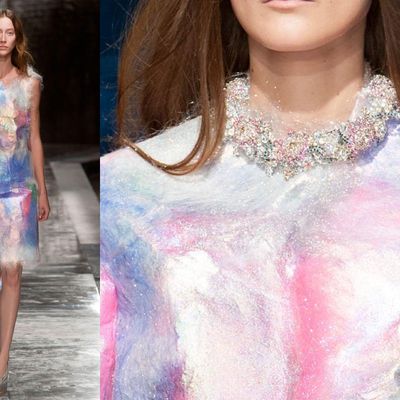 We are sifting through the onslaught of beautiful clothes coming in during Fashion Week and pinning the ones that we love the most. Why do we pin them? Because they're significantly on-trend, insane, or sometimes we just plain love them.
Burberry Prorsum showed a dreamy collection called English Rose that was as wearable as it was enchanting. It was a parade of texture and color; suede combined with soft scuptural cashmere knits, raw silk, rubber pencil skirts, and felted merino-wool wrap coats in a pastel palette that felt ladylike but still perfectly natural. Our favorites were any of the opening ten looks — the only problem is choosing between mint green and lilac as our primary color next spring.
Tom Ford's collection seemed like an artistic study of that divisive body-con dress. Knees aside, we found his delicate guipure technique on a pomegranate silk kind of incredible; we especially love this with lace-up, thigh-high boots. It's classic, wicked Tom Ford.
We loved Mary Katrantzou's shoulderless last look: The proportions and shape played perfectly against her signature digital prints.
We are rarely ever stumped by the composition of a fabric. But at Christopher Kane we were delightfully flummoxed by the sight of looks 21, 22, and 23, all composed of what we think is a felted iridescent synthetic fiber that looks like it glows, edged in similar fibers that look like sparkly hair. This sort of innovation is what makes Christopher Kane stand out of the pack of young designers.
Click ahead to view all of this, or simply head to our Pinterest board.