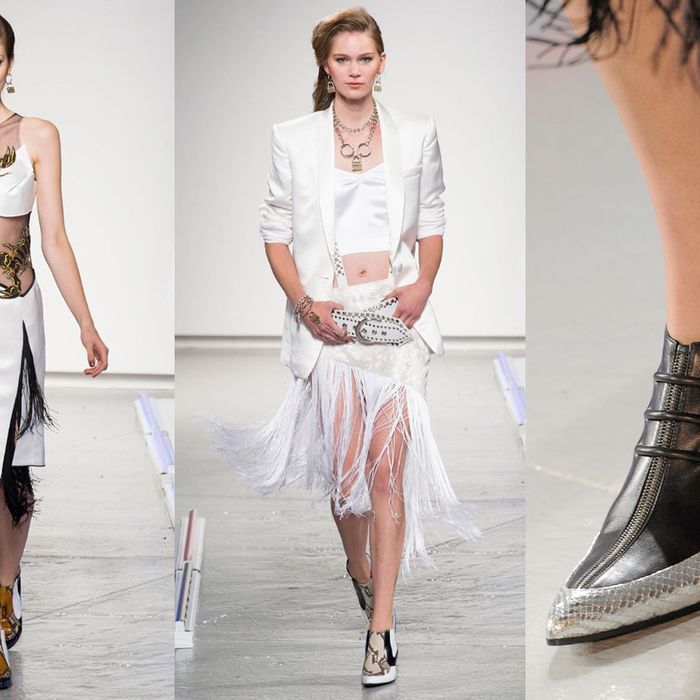 We're sifting through the onslaught of beautiful clothes during Fashion Week and pinning the ones we love the most. Below, the most on-trend, insane, or just plain lovable pieces from the runways.

Proenza Schouler showed a restrained collection this afternoon full of swishy ankle-length skirts. Our favorite look, modeled by Hanne Gaby Odiele, featured spangled lamé pleats that glint in the light.  
New York Fashion Week's "twisted sisters," Laura and Kate Mulleavy, presented a cavalier collection for Rodarte, inspired by eighties glam/hair metal culture and its early beginnings on L.A.'s Sunset Strip. Notable looks were made of dripping silk fringe that thrashed as the models moved through the neon light installation in the Chelsea gallery space. Other details included leopard-print brocade, gunmetal embroidery, and Swarovski crystals. We particularly liked the all-white numbers, which could easily be worn by Stephanie Seymour in any Guns N' Roses music video.

If we had to pick just one Oscar de la Renta dress from yesterday's show, it would be look 45, a pink floral- and acanthus-print taffeta gown with a slight rise-and-fall hem and subtle portrait collar, worn with a huge rose beaded necklace. It's a look that could only come from the rarefied Spanish wonderland inside Oscar de la Renta's head.

Remember Wes Gordon's name: He's a young British designer on the brink of something big. His latest collection was a mash-up of all that was best about nineties minimal. Walking to songs like Nirvana's "Come As You Are" and the Breeders' "Cannonball," models showed chain-mail crop tops, lilac skirts jettisoned with black lace, and bias-cut slip dresses in pale limoncello or bright blush. Our favorite part? The angel-hair straps placed just at the crest of the shoulder, on the verge of slipping off. Sexy. And, now that we no longer need parental supervision, totally wearable.
A few days ago, the Row showed long, loose silhouettes in luxurious fabrics. There was nothing sexy about them, but their asceticism was alluring. We loved the sculptured hats with barely there veils that conveyed a serene, neo-Victorian mood.