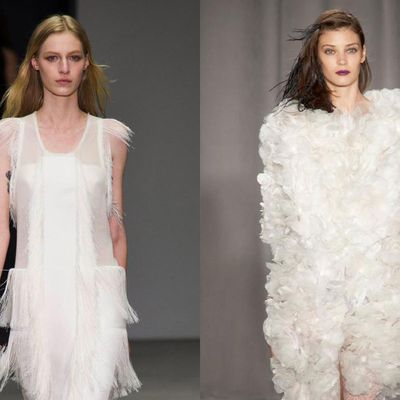 We are sifting through the onslaught of beautiful clothes coming in during Fashion Week and pinning the ones that we love the most. Why do we pin them? Because they're significantly on-trend, insane, or, sometimes, we just plain love them.
Marc Jacobs presented a moody, dark collection that was a visually refreshing departure from all the safe bets that walked the runways before him.  I loved the collection, not just because we want to wear it now for fall, but because it reminded me of a tragic part in Russian imperial history: large prints and military coats seemingly inspired by Czar Nicholas II (who loved mixing imperial fashions with provincial ones — the original high-low dresser) with tasseled pompoms, large brocade prints, the high necks and mutton-sleeve styles that his wife Alexandra Feodorovna would have worn, but in black tulle — all with a sportswear twist. Thank you, Marc Jacobs, for being the outlier of New York Fashion Week. The pieces will be highly sought after for fashion editorials in months to come, and the mood and palette will find a way to trickle down into many closets next year.
At Calvin Klein, Francisco Costa presented stunning funneled, deconstructed silhouettes in graphic blacks and whites. But our favorite was the second to last look, a long white silk column tank dress lined and embellished with rows of white fringe that flew with each passing step.
At Ralph Lauren, we especially liked the last exit, a shoulderless, flame red gown with a dramatic cape. But what we truly loved was that Ralph Lauren himself must also be a huge Clueless and Cher Horowitz fan — why else would he devote the first ten looks to her rotating closet?