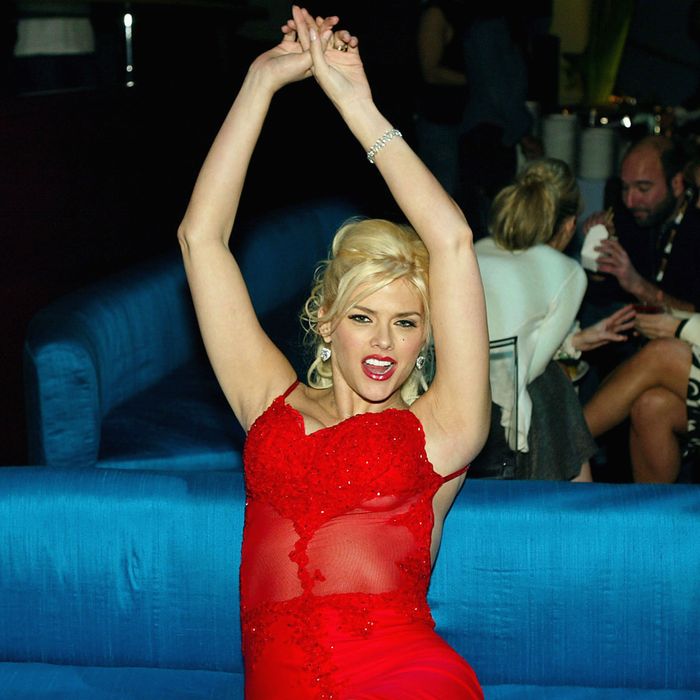 Photo: Kevin Winter/Getty Images
Twenty-six-year-old Liz B. works at a nonprofit by day — and, at least recently, as an Anna Nicole Smith impersonator on the side. Here's how her C cups (and a helpful co-worker) landed her the gig. 
One of my co-workers Mel had heard that BAM was looking for Anna Nicole Smith impersonators to promote the Anna Nicole Smith opera by walking in the Gay Pride parade. Based solely on the fact that I have big boobs, he said I should do it.
I don't think I look like her — no one has ever compared me to her. I'm a very casual jeans-and-a-T-shirt kind of girl; I don't have platinum blonde hair or wear much makeup. But I wasn't remotely insulted. She's beautiful. I was flattered. And when he said it was a paid gig — a couple hundred dollars — I listened even more carefully. Then I sent in my "head shots" — a term I use loosely, because all I really did was pour a huge glass of wine at 2 a.m., slap on a ton of makeup, straighten my hair, and have my roommate take some pics.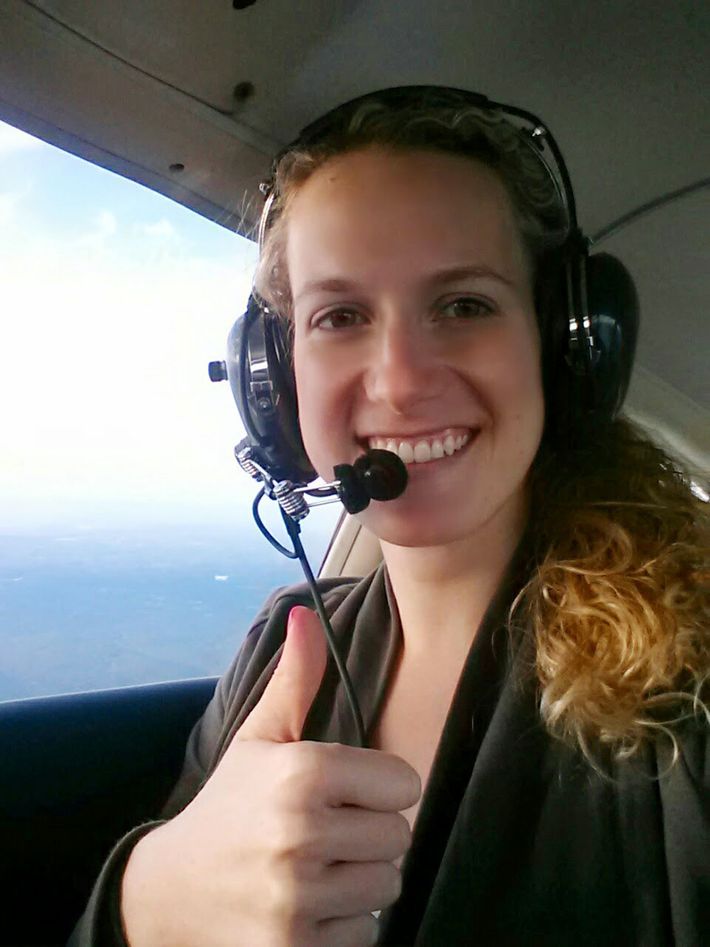 I assumed they'd ultimately hire real performers, but they chose me (along with three drag queens) to be the "Annas" at the parade. As soon as I got hired, I watched her E! True Hollywood special — such a tragic story.
To dress up for the parade, I wore a semi-scandalous dress from Forever 21 via Housing Works and my sexiest push-up bra … I have naturally big Cs, but I stuffed them a little. I'm pretty tall, but I also wore super-high, platform hooker heels. My friends were like, "Holy shit, you are her!" I didn't feel like her, though. Mel came over to pregame, and we drank while I got ready. Why not? I wanted to go in character — i.e., drunk. Mel also wanted to make sure I properly brought "the goods" out.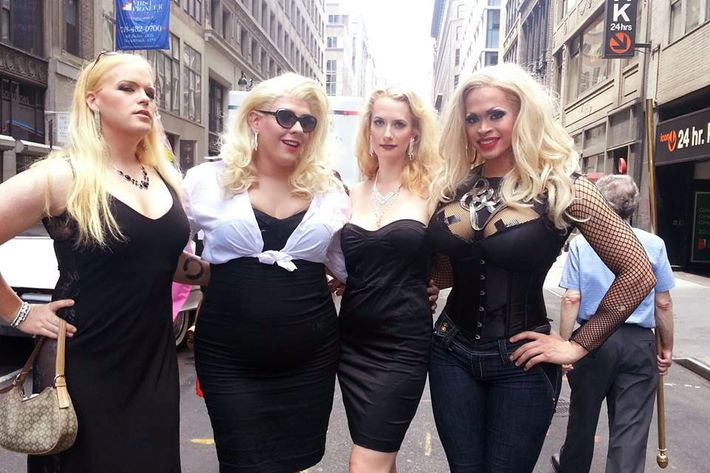 The drag queens were so nice to me. They were like, "Ohhhh, it's a real girl! How cute … a real girl!" I guess there was the option to go "Anna as hot mess," but I decided to go classic Anna, pre-spiral. All of us Annas ended up going into a bar before the parade started. I think we drank kamikaze shots … it was appropriate. Have to say, I killed it at the parade. We had to hand out stickers that said, "I want to blow you … a kiss." I blotted my own lipstick on those stickers and stuck them on everyone.
The marketing team asked me to show up at the opening-night ceremony for the opera: Another couple hundred dollars and all I had to do was come to the party, drink, eat, mingle, and take photos. I invested in a wig this time; I stepped it up a notch. I'm pretty sure some people thought I was a drag queen. Some older men spent an unusual amount of time talking to me. It was great, but it was all so much more tiring than I imagined! Those platform shoes are grueling. Afterwards, I took off my wig and got on the subway — I liked riding the train home late, half in my costume, feeling part of the NYC freak show.
I wouldn't say I have more respect for Anna Nicole Smith now, but definitely for the drag queens. They all had real wigs glued onto their scalps, and Rebecca Glasscock had amazing inflatable fake boobs. When I complained about my feet, they'd say, "Honey, if you put in a little bit of effort … it's not that hard."
NYC Opera is now going bankrupt, and the show is over, so I think the gig is done for me. I don't know what other work there is to be had as Anna Nicole Smith, and it's not exactly my life's calling. It is on my résumé, though.