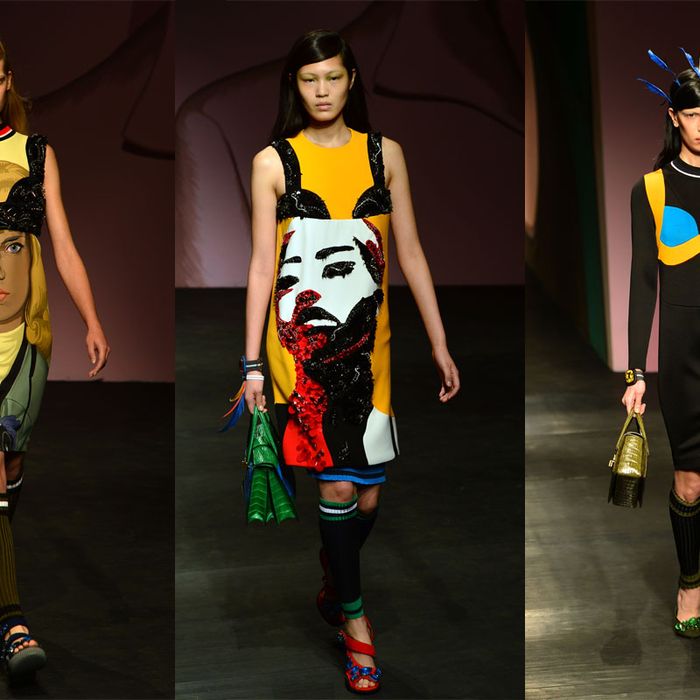 Prada.
Photo: AFP/Getty Images
Miuccia Prada's collections are always ripe for interpretation, although (and perhaps because) the designer herself remains coy about her intentions. The notes at today's show in Milan were characteristically brief: the giant mural paintings of female faces that adorned the set were done by a collection of artists in collaboration with with the New York-based design firm 2x4, namely El Mac, Mesa, Gabriel Specter, Stinkfish, Jeanne Detallante, and Pierre Mornet. According to an introduction to a catalog of their work, "The women on the walls represent the multiplicity of guises that women assume in the course of a day or a lifetime."  The catwalk was lined with rubber, to represent the streets.
Models walked forth in a collage of colorful knits bedecked with sparkly embellishments and prints that echoed the mural backdrop. They wore sporty legwarmers and carried small, ladylike bags; a few had colorful feathers in their hair or on their wrists. It was an evocative collection, and we couldn't help but unpack its various references. See our conversation, below.
Stella: Now that I've looked at this collection again, I've come to the conclusion that it's a comment on the confusion of modern womanhood – glamour, sport, girlishness, sex, purity. The bra tops outside of the coats provoke, yet the thick wool coats protect. Alluding to something, but revealing nothing. She's pushing us to acknowledge our dual wish to be looked at, but be safe from being looked at. Like, look at my bra! It's not my bra!
Charlotte: The knee socks feed into that a bit too. They're youthful, but also sporty and collegiate, almost protective. Like shin guards. In fact, they're not even socks.
Stella: They're legwarmers!
Charlotte: They're functional! But there was also some cleavage, which is rare for Prada. That plus the glittery bras and bust detailing shows more sexuality and showiness than normal. It was like the intellectual Prada woman went to Vegas and tried to get in touch with her devil-may-care side.
Stella: It's interesting that you mention Vegas, because to me it's all about projection. These women are billboards – they're like wheatpastings that have been covered and partially uncovered. It's a big layered party of different styles and references.
Charlotte: The face prints seemed to show that all the models are wearing another identity, too. Putting a separate face forward with their clothes. What do you think of the placement? They're all in the models' laps, or hip area.
Stella: Maybe it had something to do with wombs? I also found it interesting how their clothes echoed the murals. The models were walking walls, sending out all of these messages at once.
Charlotte: The murals reminded me of the opening credits of Mad Men, where you're made aware of these super-sized ideals being sold to you, and you're just one person trying to live up to lots of different standards.
Stella: Well, we're sending out messages but also internalizing them. She seems to be collapsing space with the clothes, too. The bra is the coat is the face.
Charlotte: Or conglomerating roles. So many women want their clothes to multitask – they want a shirt with a built-in bra, or an outfit that can go from the office to a date. And these clothes don't multitask literally, but they do figuratively. It's almost poking fun at all the demands placed on modern women.
Stella: The same woman that wears athletic socks can carry those prim bags.
Charlotte: What did you think of the feathered headdresses and bracelets? I interpreted those as a nod to plumage – maybe the female desire to adorn, etc. They also seemed like talismans.
Stella: Little vestiges of childhood or even motherhood, or fantasy. Like costumes that didn't come all the way off, or clues about a hidden life.
Charlotte: Like you were playing dress-up with your kids at home and then forgot to take something off before you went out to dinner.
Stella: Or maybe like you were pole dancing and snagged your feather boa on your sleeve.
Charlotte: All in a day's work, really.