A Primer on Suki Waterhouse, Model and 'It Girl'
If you didn't first hear about British model Suki Waterhouse last February, when she was photographed in Boston on the arm of 38-year-old actor Bradley Cooper, then you surely have now: She sat front row at almost every major fashion show in London last week, perched next to celebrities like Harry Styles and Sienna Miller. Although her relationship to Cooper is still questionable at best — they were seen canoodling at Wimbledon back in July, but that's about all we have to go on — she's got plenty of other celebrity friends to hang out with, including Cara Delevingne and Georgia May Jagger, the latter of whom she's known since age 11.
Raised in a posh British family and scouted at age 16, Waterhouse has modeled for H&M, Sass & Bide, InStyle, and Vogue Japan. But she's arguably more famous for her social appearances than she is for her work — she's been interviewed by W and British Vogue, and the Times's Cathy Horyn recently called her an "It girl." Learn the facts about her in our crib sheet, below.
Age: 21.
Principal Residence: London, England.
Education: She quit school at 16 when she was scouted by Next models, her current agency.
Parents: Her father is Norman Waterhouse, a renowned plastic surgeon and co-owner of the Waterhouse Young Clinic, which is known for cosmetic and spa procedures (particularly their famous "HydraFacial").
Other family members: She has a younger sister Maddie, 18, as well as a younger brother Charlie, 14. Charlie runs a T-shirt line called ChWoody, which he co-founded with his schoolmate Will Woodhouse. All their merchandise is printed with handmade drawings in London.
Friends: Raised in posh circles, she met model Georgia May Jagger (daughter of Jerry Hall and Mick) at age 11 while playing netball. She's known model and socialite Clara Paget since "God, I can't even remember when," and became friends with Cara Delevingne through Clara. She also hangs out with Tali Lennox, Ireland Baldwin, and Harry Styles; she reportedly paid for a stripper to come to Styles's 19th birthday at London's members-only Groucho Club.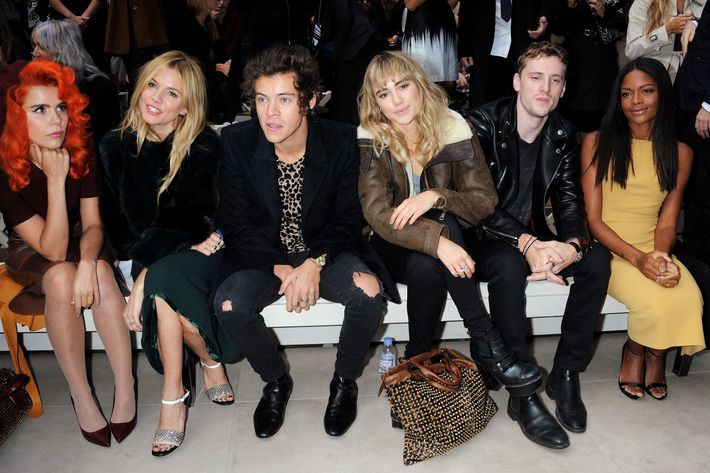 Exes: She likes guys in bands. Her first serious boyfriend was Luke Pritchard of The Kooks, who is eight years her senior; they broke up in 2011. She then dated Miles Kane, co-frontman of The Last Shadow Puppets, until January of this year.
Signature style: Tomboyish and eclectic. For her first-ever go-see, at age 16, "I went in my mom's trainers and baggy pants," she told W magazine. "The casting director told me I should start dressing like a girl." She still refuses to take fashion too seriously, and looks perpetually on her way to a music festival; wardrobe standbys include sneakers, miniskirts, crop tops, boxy coats, and heart-shaped sunglasses.
Occasionally dabbles in: Acting, of course. She had a small role as a drug-dealer's girlfriend in the 2012 movie Pusher, which also starred British model Agyness Deyn. "Acting is something I'm interested in and I'll keep going to auditions, but modelling is my main job," she told British Vogue.
See pictures of Suki going about her glamorous life in our slideshow.