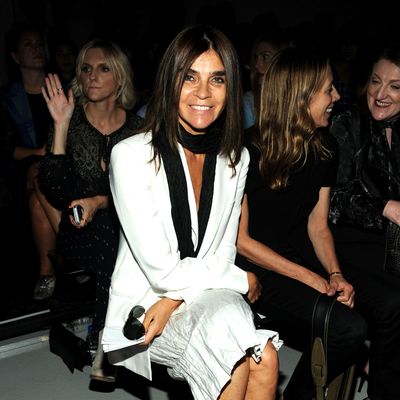 Carine Roitfeld.
Photo: Ben Gabbe/Getty Images
Mademoiselle C., Fabien Constant's documentary about Carine Roitfeld, comes out in theaters today. For fashion lovers exhausted by the corporate carnival and insta-feeds of New York Fashion Week, the movie offers a 90-minute dose of fun, intimate access: a lamb peeing on a model for the ultimate cover shot, Karl Lagerfeld pushing Roitfeld's granddaughter in a stroller, Tom Ford obsessively orchestrating a photo shoot from a ladder, late-night editorial crises with Stephen Gan, Roitfeld futzing with the photo sets in jeans, and — perhaps most interesting, in the age of "having it all" — a look at Roitfeld's family relationships. (Awkward and awesome that son Vladimir explains the term "MILF" in the movie.)
Last week, just as the first photos of Kim Kardashian in CR Fashion Book were released, the editor sat down with the Cut to discuss her own relationship with the "reality" cameras, the inevitable September Issue comparisons, and the creative freedom afforded by her not-yet-husband (ahem) Christian Restoin.
On deciding to do the movie:
When [director] Fabien [Constant] proposed to do this, it was very important for me [to do] everything possible to help this magazine. So, me, I say, "Okay, let's ask Stephen Gan, my partner. If he's happy with that, we are two in this thing." And Stephen said, "Okay, let's do it." But no one understood it would be so long, so difficult to have a microphone over your head for four months, and that it would be so personal at the end of the day. It was not the idea to make a story about me on TV.
On relinquishing control to director Fabien Constant:
At first, I thought maybe it's too much about me. But you know, it's [Fabien Constant's] film. I did not edit it. But in a way, it's good therapy for me. If I [had] to edit it, maybe I would do totally different. It's through his eyes, so I say, "Okay." It was like a deal. I say, "Okay. Let's do it. Just let me see before showing, to make sure there is not something embarrassing for the business." I just asked him to take off ten minutes because I think it was a bit long, and that's it. Even though I don't like my hair curly, I try to forget about it.
On seeing herself on film:
I would change a lot of things — my hairdo, first. Me is always difficult because you don't like yourself; you don't like your voice, I never like me on film. But what I like [is the scene of] me doing my ballet. I [thought] it would be very short, a few seconds — it's longer than I thought — and [the scene with] me singing, in the couture in Paris. I thought it would be very short. It was the entire song. Oooh la la. But maybe, it's what I'm doing. I'm singing. It's really me. Usually I'm more fun, because I don't have the camera above me.
On the film's portrayal of the fashion industry:
We discover that finally fashion is not just about monsters, and people can be normal. I have a family, and try to speak in a nice way to the collaborators. I really don't scream at them. I try to be quiet with them. So I think this is possible, you know, but if you work passion into it. And I think it's a dream, because fashion is business, but you can still love fashion when you're not just thinking about business. I saw The Devil Wears Prada. I don't think it's a reality. In a way, I hope our little film is nearer to reality than all these big productions. We're never perfect, but I think it's something very fresh for people. It seems honest. It's good for fashion, because people think fashion is just about glamour. But then you see people are nice together, no? I'm sure I'm going to get a lot of CVs in my pockets for the next issue!
On the inevitable comparison to R.J. Cutler's documentary of Anna Wintour:
Everyone is going to compare [this film to] The September Issue with Anna Wintour, no? I think in both of them you see passion, work, but for them with a lot of money. It's a different point of view, too. I think when you're working in a big magazine like Anna, she is very [into] business, which is great. We need people like that. And me, I'm totally different. I'm just thinking about the picture. I think if you see both [films], you are really going to learn something about fashion.
On leaving the safety of Vogue and Condé Nast:
It's very difficult because when you come with a big team and suddenly you're on your own with your Blackberry to call even a car service, or a photographer, or lunch, or I don't know, everything you have to do on your own. You don't have any secretary. It's new! It's a lot of energy, but in a way it's a lot of freedom. And because of this I can do everything else that's impossible to do when you belong to a big magazine. You are not allowed to do advertising, to do a film, to do a book, to be a cover girl for MAC. So it was a lot of new experience for me, you know?
On being shadowed by video cameras:
When you go to the [fashion] shows it's not easy. Now, with so many people outside, with the photographers asking [for] your picture, autograph, and then plus, you have a camera, you feel a bit stupid sometimes. You feel, "My god, what are people going to say?" It was very difficult. You never forget the camera. And your voice. And when you go to pee, you have the microphone on you, so [makes gesture of removing microphone] … It's difficult.
On working to appear effortless:
Maybe it comes from an older generation, because Karl Lagerfeld is like that. He never tells you he is feeling bad — never, never. Never shows his problems. I think it's very chic. It's like to go to a party, when you spend five hours to get dressed, it doesn't have to show. You have to be like you dressed in two minutes, you know? You don't have to see the work behind. This is not chic. What is chic is just to be perfect, like magical, no? So work behind has to exist, but you don't have to show it.
On her longtime companion and the father of her children, Christian Restoin:
It's a long relationship with him, more than 30 years. Without him, we would not be here, me and my kids. He was really the guy in the shadow who helps us a lot and gives me the best ideas I ever get: "Oh, why don't you use Sofia Coppola to be the editor-in-chief of French Vogue?" It was his idea, you know? Always you need someone behind you that gives you ideas, and listens to you, because no one likes to listen to your problems. It's very boring. So to have some attentive ears, and very honest — because you are not beautiful all the time like everyone tells you. I think it's very, very important we share time and find a way to stick together. And I touch wood! [Knocks on table] He says maybe he is going to marry me in the film, so I didn't forget that!
On her possible marriage:
You know me, I am very romantic, so if I want to marry I would love to go to marry in a orthodox church with my granddaughter carrying my train, with my son — because I have no dad anymore — bringing me to the altar, so of course, it's like a Romanov wedding. I don't know if [Christian] would like that. [Laughs] He is still romantic, in his way. And I am very superstitious. Maybe it's the way we're still together, because all my friends get divorced. Me, I'm not married, so I'm not divorced.
On financial support and creative freedom:
When I was starting, Christian had a very good job, so I [could] work, but I was not working to pay the rent. I don't know how to express, but it's so different, to work for pleasure, not to work just to pay everything. So maybe he protected me a lot. I still have some juice; I still like [my work]. If I had to take all the jobs just to pay the rent, the school, and everything, maybe I would not have this energy I have today. I would be killed by the business. So it's because of him, because of the way I had when I was young with the kids, that I [am] still here and still like to do fashion. It's very important to have to say thank you to someone, so thank you to him. Without him I would not be here today, and thank you to my dad because I always want to please him. He was my big, big, big mentor. He died many years ago, so unfortunately he didn't see me become someone a bit important. He would be proud — proud to see my life, and trying to make everything work.
On family and babies:
People say I look like my father. My son is very much like him. I miss my parents. But still, my granddaughter, my daughter, my grandma, you know, so it's very important for me. You lost your parents, but a new baby comes. It's like the cycle of fashion. It was the reason for the first issue: rebirth. Surrounded by babies, I discover so many things I forgot. And I'm not a romantic with babies. I'm not all the time with babies. It's not really my scene. But I was at the beach with [granddaughter Romy]: [singing voice] "Little shell, look at the bird!" Suddenly you go back to simple things, which I think makes you better in a way. The more I'm doing this way — I'm not yet a wife — but I think I'm a better person. It is very important, I think, to improve yourself, to keep dancing, to get good posture.
On Karl Lagerfeld's paternal side, shown in the film when he pushes Carine's granddaughter in a stroller:
Oh my God. I think it will be on iTunes. No one expected him pushing a trolley. It's funny, but it's the way he is. He was always really nice with my kids from the beginning. And he was shocked that I became a grandma because I don't think he sees me as old as I was. In this business it's good to have some protector because it's tough. I think it's important for me, and it's important for him. He's such a polite person; when we talk about the book we did, The Little Black Jacket, he says, "Our book." So it's not "his book" it's "our book." This is very chic.