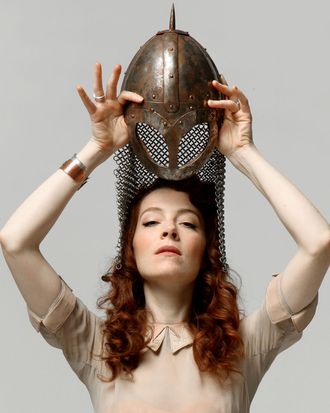 Photo: George Fok/Courtesy photo
Nineties rock goddess Melissa Auf der Maur, onetime bassist of Hole and the Smashing Pumpkins, is living the dream of creative urbanites everywhere: She's retreated to an artistic paradise in the country.
"Hudson reminds me of Montreal in the nineties, when it had the lowest cost of living," Auf der Maur told the Cut. "It inspires me to see 25-year-olds graduating and coming here from Oberlin and silk-screening their own T-shirts."
Of course, Auf der Maur has more clout than your average 25-year-old. Since setting up camp in Hudson with her artist/filmmaker husband Tony Stone (and their 2-year-old daughter, River), she's helped launch Basilica Hudson, a 12,000-square-foot factory turned arts center on the banks of the river. The space hosts a regular program of food festivals, concerts, and screenings. Today and tomorrow, the Basilica is throwing its biggest event yet: the third annual BasilicaSoundScape music festival, presented in collaboration with Pitchfork and featuring artists like Matthew Barney, Richard Hell, Cass McCombs, and DIIV.
The Cut spoke to Auf der Maur about her sisterly bond with Courtney Love, the creative power of motherhood, and the hard work of building an artistic community.
What did you learn from working with artists like Billy Corgan and Courtney Love?
Hole was my life lesson in people — the complex, brokenhearted soul-searching of being a human. Billy was the ultimate music lesson — he has a strong vision, whether it's writing songs or building a whole world to live in.
They were both taking a chance on me. When Billy found me I was 21 years old and my band was opening up for him. We recognized each other like soul mates. That love is still there — it's like a family member, even though they're both pretty absent from my daily life. Courtney pops up once a year looking to reconnect. We have a beautiful sisterly thing that will never go away, and Billy is like a big brother.
What brought you to buy a place and put down roots in Hudson, New York?
I was done with major American cities when I met Tony, and we fell in love and began collaborating on art and music. He had fallen in love with this area thanks to his time up at Bard — we were looking for more of a rural experience, and we drove by a for-sale sign.
The moment we signed for the house I found out that I was pregnant.
Does motherhood foster creativity?
Expanding your heart tool allows you to make more and do more — all the endless things of femininity and nurturing in motherhood. I'll have a new angle to take based on what I'm learning as a mother. It's definitely going to fuel my next work.
How have you approached building an arts community upstate?
It's building a dream out of nothing. There's the romance of reclaiming a beautiful and rich place that is so full of potential, yet it's had a hard few decades. You're bringing life to an old building or a town with so much possibility, bringing original and inspiring artwork to a community who might now get to see it.
We run this place on credit cards against the building. We have one part-time employee and had her take a business course. We came at this not as business people but as creative people who are running a business. It's a big dream in a little city.
What's the difference in energy from a stadium show to something like the Basilica?
The intimate clubs are more terrifying than stadiums. I went backward: When I started, I played eight small clubs in Montreal — then I joined Hole, and my ninth show was playing to thousands of people at the Reading Festival. Slowly, I went back to a more intimate thing with my solo work.
That's a big part of what brought me to the Basilica — the idea of the intimate in performance. We are a big mom-and-pop DIY show.
Tell me about the work that goes into the SoundScape festival.
BasilicaSoundScape is the most ambitious project we've taken on with regard to infrastructure. It's nerve-racking: There aren't any sponsors, and we have a limited capacity. It's not like we could ever become a Lollapalooza with 60,000 people. We're making a weekend that requires effort. The bands have to get off the beaten path, the space is different, and the same goes for the concertgoer — you have to get yourself up here and bring a tent. We're bringing the effort back into your music and art experience. The effort — I think people are craving that, because that is part of the process and ritual of discovery. You want to discover something, and it takes effort on our parts, the performers, and the audience. The uphill struggle is also what's making it special.
This interview has been condensed and edited.