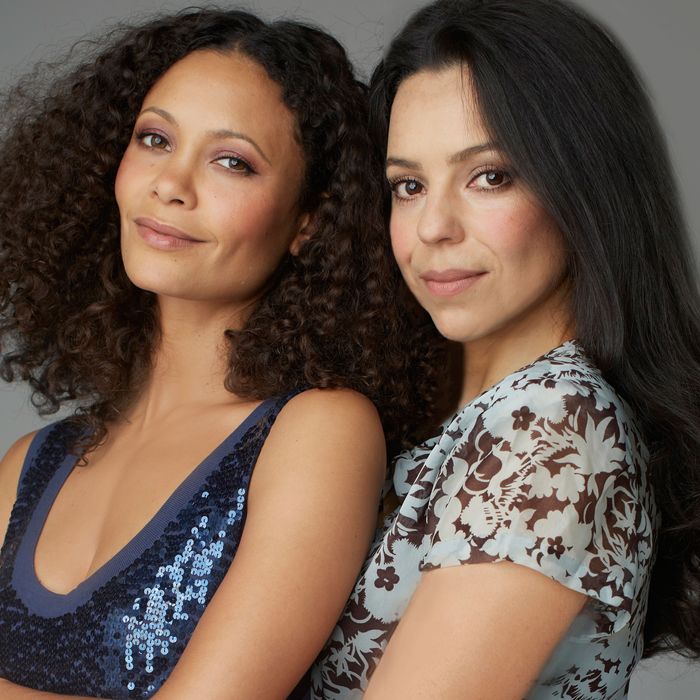 Photo: Lorenzo Agius/Courtesy Photo
While collaborating on shoots, red carpets, and press junkets, actress Thandie Newton, 40, and makeup artist Kay Montano, 46, have spent nearly a decade discussing beauty. Whether swapping tips, talking icons, or sharing their favorite products, theirs is the usual conversation of girlfriends set against a pretty rarefied backdrop.
They're now taking this dialogue to the web, at ThandieKay.com, which launched this week. As two women of mixed race, they are aware on a personal level how unrepresented diversity is in the beauty industry, and wanted to create a site that would celebrate difference as well as inspire creativity, featuring women of every ethnicity, nationality, and age from around the world. Kay Montano spoke with the Cut about what readers can expect, which will never include Cara Delevingne eyebrow tutorials.
What's the overriding message you want to communicate?
We'd love to present the idea that there's no one ideal of beauty, something we both wish we'd been encouraged to realize growing up. Magazines tend to have a "type," and the problem is, if all you see is one person — the same tall, invariably white, skinny girls with straight hair — and you don't see yourself represented, you may learn to feel short, dark, fat, and frizzy. Thandie and I are saying, don't try and fit into some stereotype. We will celebrate otherness simply by including it. Acceptance, inclusivity, diversity are not words you normally get with beauty talk. Perhaps it's about time.
How do you reconcile celebrating otherness with your jobs within the machine that often perpetuates this one-dimensional ideal?
As an actress, Thandie is discussed by people who have no idea who she really is; that's celebrity. I have been part of that process, creating "perfect fashion fantasies" for years. We know Thandie is considered archetypically beautiful — I love painting that face — and there's no reason why she shouldn't embrace this as a gift. We both accept that celebrity and beauty are deified, but rather than get angry or preach, we want to use our platforms to change perceptions. Whatever your job is, you can have a humanitarian approach to it, and for us, it's about using beauty to help connect people and start a community of women. It's the Trojan horse approach — you want Thandie's eye shadow? You can get it here. You want to look at pretty pictures? We've got those too. But then if you read on, there are inspiring stories from incredible women, a conversation we want you to join.
Where do you find these women?
We have access to a lot of celebrities through our work, but interestingly Thandie also meets the most amazing people working as an advocate. The women she meets at TED are the real movers and shakers, like the Pakistani director Sharmeen Obaid Chinoy. We've also got women like Chimamanda Ngozi Adichie, author of Half of a Yellow Sun, and Mercury Prize–winning British rapper Speech Debelle, whom Thandie met on a shoot. We look for women who have broken the mold and risen above adversity, who can answer our beauty Q&A with awareness, warmth, and positivity.
Thandie has spoken about battling with her own sense of self and belonging growing up. Is that a key message of the site?
We have very different experiences of being mixed race — apart from the odd nasty name-calling, I wasn't made that aware of my color growing up, whereas Thandie had some pretty awful experiences. We both turned our otherness into expression as teenagers, Thandie with dancing, acting and academia; I did it by embracing 1980s subculture and being a makeup artist. It's made Thandie incredibly empathetic with people, very warm and kind. It made me very open-minded and imaginative. We'd love to share these positives with anyone who has encountered shaming as a child.
How is all this translated into a beauty blog?
We have eight years' worth of shoots we've done together in our archive and lovely pictures that haven't been seen before. We sometimes use them as a starting point to offer up tips — both Thandie's and mine — and we've created some fun MTV-style makeup videos rather than straight tutorials. We're inviting people in to see what we've been doing together for nearly a decade. We're not saying you should look a certain way, we're just showing what we do (and having a lot of fun doing it), talking to women as we'd like to be spoken to ourselves.
So no "get the look" features, then?
I can't tell you how many times I've been asked how to "get" Cara Delegvigne's eyebrows! I find it so bizarre; Cara's eyebrows look beautiful on her because they're hers! How about make your own eyebrows work?