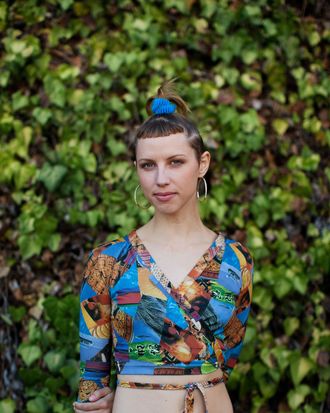 If she had been in charge, there's one thing Los Angeles stylist Lisa Katnic would have added to the instantly infamous Miley Cyrus and Robin Thicke VMA performance she helped conceive: more twerking shots. MTV viewers "didn't really get to see [seven-foot-tall burlesque dancer] Amazon Ashley's butt twerking — which is an amazing sight," Katnic regretfully informs me. "I feel bad for people who had to watch the performance on-camera. It was a spectacle in person."
She makes no apologies for any of the choices, which led critics like New York's Jody Rosen to accuse Miley of "annexing working-class black 'ratchet' culture" in service of her post-Disney rebrand. "Somebody said that it was racist for a white girl to have three black girls as props onstage to benefit herself," Katnic tells me, speaking from "We Can't Stop" director Diane Martel's apartment in Brooklyn, where she crashed during Fashion Week. "It's misinformed because [those dancers, the] L.A. Bakers are in the ["We Can't Stop"] video. At this point, Miley and the L.A. Bakers are friends, and Amazon Ashley? They're friends in real life. They go out to lunch."
"That's so demeaning to [the dancers] for somebody to say that," she adds. "Here they are doing something that's awesome and fun, and [people] shit on it."
As long as she's setting haters straight, allow her one more clarification: those hot-pink teddy bears, the sparkling cheerleader outfit, and the foam sports-fan hand, all of which were made by Katnic? "'Ratchet' wasn't used to describe it" in the wardrobe memos. "That was camp."
If the summer of 2013 was pop-culture's ratchet moment, Katnic — who is Croatian-American — could be considered the controversial aesthetic's chief mediator. "Every single [music] video that I've done this year, one of the key words has been ratchet," she says over lunch at a vegan restaurant in Los Angeles. By bringing that word to life, and offering a new look to accompany summer's biggest songs, the 28-year-old has quickly been elevated from jobs assisting more established stylists or collaborating with friends on low- to no-budget videos to leading wardrobe departments for pop's top hits.
That includes "We Can't Stop," in which Katnic adorned partiers with gold chains, sunglasses indoors, torn-to-shreds leggings, and booty shorts; the lewd version of Robin Thicke's "Blurred Lines," for which Katnic notes "there's nothing dirtier than a white bra and panties"; and Rihanna's yet-to-be-released "Pour It Up" video, including strippers in six-inch "ratchet" rhinestone earrings.
Despite the skin and jewelry present throughout, "ratchet is so vague," Katnic says of the contested term, which has ascended the ranks from underclass insult to Internet meme to marketing buzzword. "One person's ratchet is Lil' Kim, and another person's ratchet is tranny hooker on Santa Monica Boulevard."
Katnic's own look at lunch could probably fall in either of those buckets. She's accessorized with a black rhinestone necklace along with the Rihanna stripper earrings, which sway like pendulums on a grandfather clock when she tilts her head to bite a raw taco. Her front teeth are chipped in a cute way; her blue eyes are severe; and her dirty blonde hair is cut short, almost shaved at the sides, and tucked under a black cap — a "sporty bling" look that Katnic admits mirrors Miley's.
Before her successful summer, Katnic had helped out on projects for Rihanna and the Jonas Brothers, but Martel brought her on for "Blurred Lines," and it "was the first time I ever worked with somebody that was like 'Hey, you have dope style. I trust you. Just go with what your instincts are,'" Katnic recalls.
Dressing nearly-nude models is an easy enough job — just shop for some size-zero panties and find shoes that fit. But for the tamer version of the video, Katnic commissioned designer friends in Los Angeles to make "X-ray vision"-inspired plastic garments. The outfits — sheer tops paired with white raver platform sneakers and gold accessories — weren't just sexy: They reflected the nineties-nostalgic activewear look that you might adopt if you were about to spend the next 48 hours "dancing with Molly."
Lately, Katnic has worked with Martel on videos for Franz Ferdinand and Thicke's "Give It 2 U." And when not styling music videos, Katnic's making her own. She's currently in production on season two of her web series "Lisa TV" for the fashion site VFILES, in which she travels to subcultural gatherings — Goth Day at Disney Land, a rockabilly convention in Las Vegas, spring break on houseboats in Nevada — as well as New York Fashion Week to interview enthusiasts about their style.
Katnic updates her style for each segment. In South Beach, her lipstick is hot pink; her tank top is sheer. At Lake Havasu spring break, she's wearing corn rows — one part Bo Derek, one part James Franco in Spring Breakers — taking shots of Bacardi 151 and patiently listening while sorority girls explain what they packed: Lots of neon 'cuz they make you look really tan. She takes this fashion anthropology seriously: "Whether it's punk, ratchet, goth, Insane Clown Posse, twerking: I just don't ever want to disrespect any cultures because I think it's cool people are so committed."
That desire, of course, is complicated by the nature of Katnic's work. The fashion industry doesn't distinguish between cultures and their costumes, often flattening the political or historical dimensions of any given aesthetic. Outside of fashion, Miley's "ratchet" makeover is often seen as a symptom of pop culture's problem with commodifying black female bodies. And while Katnic recognizes that perspective, ratchet is "just a trendy word right now" to her — a look that anyone is free to own. Or disown when it goes out of style.
Which, by the way, Katnic says is already happening. Thinking back to the VFILES showcase of four young designers that she styled for Fashion Week, she noticed that the activewear trend is taking an "earthy" turn. "I think that 'stoner' is going to be the new look," she says, citing hemp necklaces, saggy shorts, and dreadlocks seen in looks she styled for the Harlem-based label Gypsy Sport. "I put athletic socks under rope sandals, and now I'm obsessed with that."