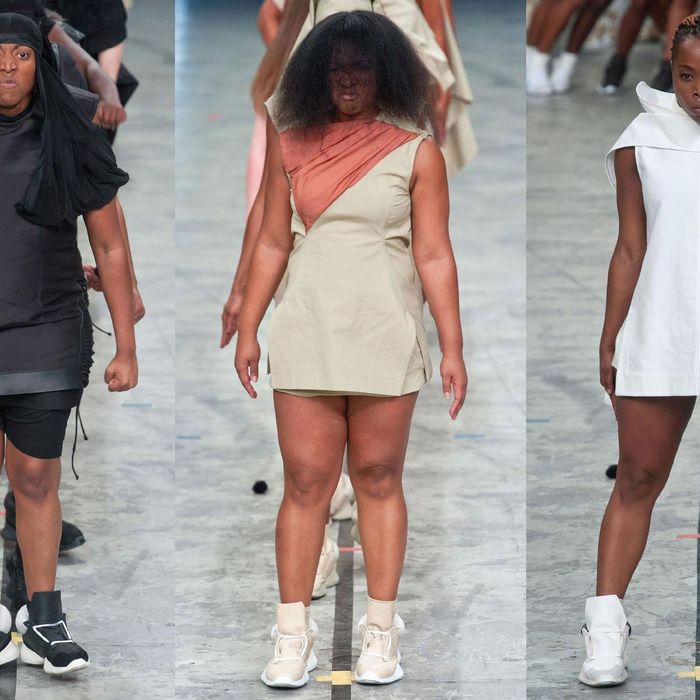 From the first models who strode out to thumping drumbeats, the Rick Owens spring 2014 presentation projected an energy not typical on a Paris runway, or any other in recent memory. Standing mostly in silhouette on high scaffolding with a pair of unadorned staircases, the models pounded their chests with a synchronized audacity, then descended the stairs and moved into the vast open performance space en masse, with scowling expressions of determination and ferocity. They twisted and rocked to the beat, throwing their heads back, their arms moving in sharp, angular gestures and their legs rising up in back kicks, side kicks, and deep forward lunges.
Owens had invited the college-age American women (members of four different step teams), to Paris, to help him express his personal aesthetic — one rooted in nontraditional beauty, confidence, and power. They modeled his spring collection, though none of them had the towering height or the reedlike physiques of the typical runway strutter. Despite athletic thighs and dancers' legs, round middles and curvaceous torsos, they did more than justice to Owens's free-flowing silhouettes — his bloomerlike shorts, tunics that curved around the bosom like a conch shell, leather vests, and dresses reminiscent of togas. Some women wore head wraps that hung to their shoulders like do-rags. Others had their hair flying free. They wore clunky footwear that looked like a cross between high-top sneakers and Pilgrim's shoes. But mostly they wore a defiant attitude.
The women came in waves. First those wearing black, then a group in a pale shade of grayish green, followed by women in chocolate brown, and then, at last, the ladies in white. Once entirely assembled on the runway, the group formed a rainbow of moody, earthy hues.
Owens, who grew up in California, was familiar with step shows and had perused performances on YouTube. As an admirer, he knew of their long history within African-American fraternities and sororities. Stepping is competitive group showmanship that blends percussive dance moves with hand claps, foot stomps, and vocal shout-outs all executed with military-like precision and school yard bravado.
"It's such an American phenomenon," Owens said backstage after the show. "I was attracted to how gritty it was, it was such a fuck-you to conventional beauty. They were saying, 'We're beautiful in our own way.'"
Owens worked with the mother-daughter director-choreographers Lauretta Noble and Leeanet Noble. Leeanet began gathering videos of step teams in action and setting up auditions in April. She called in two teams she had worked with in New York, as well as performers in Washington, D.C., in particular,Howard University's Zeta Phi Beta sorority. They began rehearsals some six months ago in the States and then flew to Paris for the final tweaks.
"We're here and I still can't believe," said Adrianna Cornish, a student at the University of Maryland and a member of Delta Sigma Theta sorority.
"It's something I never would have dreamed of, and I really don't have the words to describe it," she said, wiping away tears.
It was impressive to see a sea of mostly African-American women at a time when the lack of diversity in fashion is in the news. But more important than the color of their skin, the women stood out for their individuality. "It's important to take a minute to talk about working with a lot of different body types," Owens said. "It was a good exercise for me."
Indeed, each of these women required her own fitting and an ensemble that worked for her non-sample-size figure. And each woman had her own unique presence on the runway. Some scowled fiercely. Others stared down the audience with an expressionless face. Others turned their head up in an expression of haughty pride. Individually, the women were impressive; collectively, they were formidable. The clothes made an impact, yet they were not the stars of this show. But sometimes, they really don't have to be.