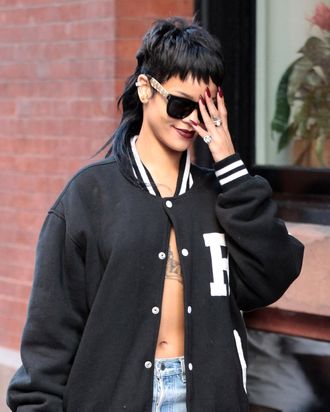 Rihanna.
Photo: Splash News
Yesterday, a London judge took Rihanna's side in her lawsuit against Topshop, granting her a permanent injunction. She sued the retailer back in May for selling T-shirts with pictures of her face on them without her permission, even after she specifically asked them to stop. Initially, it looked like the case would go badly for her — Topshop had acquired the rights to the photograph, and under British law that means they can essentially do whatever they want with it — but her lawyers prevailed. According to the Telegraph:
The judge said sale of the T-shirt without her permission was "passing off".

At yesterday's hearing, he ruled that it was "right and fair" that the 25-year-old singer should be granted an injunction to prevent any future similar wrong use of the "style icon's" image.
But a significant part of the battle remains: The court hasn't yet decided how much money the brand owes Rihanna in damages. She's asking for a lot — her lawyers claim that her legal bills alone amount to $1.4 million, a figure that the judge called "startling." So while she's won in principle, her true revenge will be in the pudding.