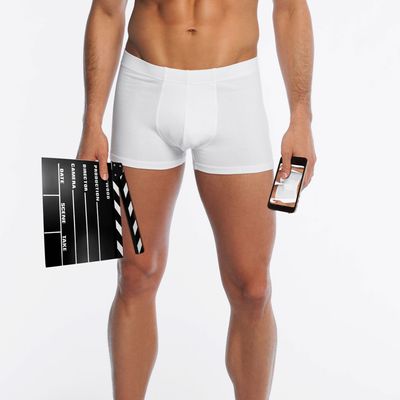 Photo: Masterfile Productions/Corbis, iStockphoto
David is a 21-year-old guy from London who listens to Kendrick Lamar, obsessively watches the British TV drama Top Boy, and tweets about grades and drugs. Whenever he feels like it, he pulls down his pants, points his phone toward his crotch, and tapes himself masturbating for six seconds. He publishes the results on Vine, a microvideo app dedicated to the quick and easy sharing of Internet catnip: pets acting cute, skateboarders falling down, and — inevitably — porn.
In the first eleven days after David joined Vine, he racked up 47 explicit videos, 50 followers who liked what they saw, and — he says — three women who wanted to meet up with him in real life. Unlike a professional porn star, David never needed to show up on set, ejaculate on cue, or show his face. All he had to do was hold his penis in one hand and his phone in the other. He didn't even need to do it for that long. On Vine, he can shoot and release a video in under a minute.
David represents the new wave of amateur "microporn" producers — people who create and share explicit photos, videos, and GIFs that are as short as winks, and have oozed into all corners of the Internet. On Vine, you can thumb over from a scampering cat video to catch a six-second deep-throat, then switch right back to the cute stuff. On Reddit, you can listen to a five-minute audio clip of a stranger moaning while you fill out a spreadsheet at work, your headphones tucked safely into your ears. And on Tumblr, you can scroll past a porny GIF, catch a couple thrusts, and proceed onto the day's news. It's even better than professional porn, David says, because it's made by "normal, everyday people."
And it's so quick and easy to make, share, and watch, it's become a fixture of normal, everyday life, too. "Even if you aren't looking for it, you'll come across porn in the middle of the day," says Kayla, an 18-year-old California girl who maintains her own sexually charged Tumblr. "Sometimes, a small piece of the whole is enough to spark some kind of desire and curiosity." Glimpses of sex online have become so normalized, Kayla says, that the experience is not even explicitly sexual: "It's more for discovery and exploration, rather than masturbation."
It wasn't so long ago that watching porn took time, money, and the willingness to risk personal embarrassment — whether you were skulking in an X-rated movie theater or hiding in the family room with a VHS tape. With the Internet came the rise of porn tube sites (like YouTube, but for sex) that streamed short pirated clips from porn DVDs direct to your laptop. Soon, anyone in the world could masturbate to a limitless trove of free material without offering up a credit card, showing their face in public, or even fast-forwarding to the good stuff. The tube sites grew powerful enough to buy up some of the porn companies themselves; and porn producers, unable to stop the piracy, cooperated with the tubes, providing short clips in hopes that viewers would pay for full DVDs or online subscriptions after getting a peek at a six-minute sample.
But these days, sitting down to watch a whole six-minute scene almost seems like overkill — and if it fails to satisfy, you can always watch another, and another, and another. Why would you ever pay? Today, the full-length film experience has been subsumed by short clips that can be chopped, remixed, and compiled into endless sexual combinations. David distills his exploits into six-second loops. Amateur editors cut professional porn flicks into even shorter animated GIFs, then Tumblr curators like Kayla shoot them to all their followers. It used to be that people would "watch porn by fast-forwarding through most of it to get to their favorite parts," says Fleshbot founder and editor Lux Alptraum. But GIFs "hone in on the hottest part of the action" — on "that perfect cum shot, or those breasts bouncing, or the moment of insertion, or whatever it is that really drives you wild." And they repeat instantly — no hands necessary.
Because microporn is so simple to shoot, edit, and share, it's escaped the seedy bounds of the tube sites and found a home on mainstream social-networking sites. Porn tube sites feel like grimy sex shops — they're poorly designed, clunky to navigate, and inundated with pop-up ads for penis-enlargement pills. But when you hop on Vine, adult material and family-friendly videos coexist in the same well-appointed home. On Tumblr particularly, "aesthetics play a huge role," Kayla says. In the service of "maintaining a certain vibe" to her blog, she searches for images that "are beautiful" and best "represent my sexual imagination and desires." She avoids "poor-quality photos and poorly rendered GIFs." To achieve a balanced look, she threads photos and GIFs with poetry and personal messages that hint at her own sex life. And she integrates professional clips with selfies that cut just under her eyes. And while this is largely a DIY project, even porn pros are migrating to these short-form outlets: Stars like Jessie Andrews and Jiz Lee post naughty six-second selfies to their Vine accounts; the porn tube company PornHub publishes SFW photos of its interns' butts on Instagram.
Platforms like Vine, Tumblr, and Instagram aren't exactly accepting microporn with open arms. Mainstream social networks are constantly inventing new strategies for blocking users from finding porn through their channels. Search for "NSFW" on Vine, and you'll find zero results. Tumblr recently caught flak for sweeping the "gay" and "lesbian" tags from its mobile app along with more explicit filters like "porn"; Tumblr founder David Karp publicly lamented the decision, but said those identity tags are just steeped in too much sexual material to keep them active. Facebook — along with its image-sharing site, Instagram — bans nudity entirely.
On buttoned-up Instagram, "You have to imagine your audience as being entirely comprised of hypothetical 13-year olds in Kansas, and the companies that want to sell things to their moms," says Clayton Cubitt, a New York–based artist whose work often features nudity. He devises arty ways to self-censor his work — like extending classic black censor bars across images in groups of two or three, so they become "like blinds we have to peek through." And on Vine, microporn producers keep inventing new tags and usernames to get around the filters in what's become an Internet-wide game of erotic photo hunt: #VineAfterDark is one currently active tag; "couples" is a common cue for pornographic usernames. Figuring out how to navigate restrictions "is a different kind of social networking," Kayla says. "You start to recognize users, get to know who has the best quality GIFs, who can find the full videos, and who will post the things you want."
David, meanwhile, hopes that microporn can be as good a way as any to make connections online. So when his masturbation is done, his sexual social networking begins. To attract maximum eyeballs to his penis, he hunts down other sexual videos on Vine, finds one that has racked up a lot of "likes," then attaches the same hashtags to his own video: #h0rny, #pu55y, #p0rn, #d1ck. Then he views the stream of strangers who have also recently posted a sex video to Vine. If he's lucky, some of these people will be women. (Yes, even #pu55y is filled with videos of #d1ck). When David finds a user that turns him on, he'll get his dick hard again and take a video in a bid to earn her attention. "I think girls love sex and masturbating just as much as guys," he said. "I want to give them what they want."