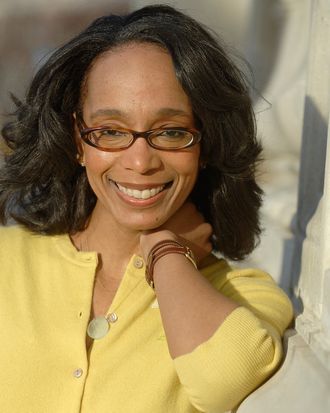 This season in New York and Paris, Robin Givhan — the fashion critic who won a Pulitzer Prize in Criticism, while working at the Washington Post — will review the spring/summer 2014 shows for the Cut. Since she has spent the majority of her year down in Washington, D.C., at work on an upcoming book about the Battles of Versailles fashion show, this new assignment marks somewhat of a return after a season away.
In anticipation of her jumping back into the fray, the Cut's Kurt Soller caught up with Givhan to learn more about her book and her interest in the topic, the shows she's most excited to see, the roots of New York's fashion inferiority complex, and why no one has yet figured out race (or underage models) on the runway. Their conversation has been condensed and edited below.
What's your process like? Do you write while you're seeing shows, or afterwards? 
I tend to want to give my full attention to the show. So I am notoriously bad about tweeting during the show, or taking video, because I really want to be there. And I always think to myself that there are people who, to paraphrase The Devil Wears Prada, would give a million dollars to be sitting there. So as a result, I don't write while I'm in a show. I have gotten really good at doing rough drafts on an iPhone in a cab, and then I like to sit in front of my laptop, in a quiet space, to digest it all, and rework it.
Is there anything this season that you're particularly looking forward to?
I would say that I have a soft spot for designers who really try to upend our expectations. That's one of the reasons why I'm always intrigued by Thom Browne, because I think he is very creative. I'll never forget once asking him about his cropped pant, and what if someone came to him and said, "Well, I love the close fit of your suits, but I really don't want something that short. Will you just do a regular length for me?" And he said, "Well, I would have to tell him I'm not the person for you." I don't know if that's crazy, but I really admire commitment to a point of view, and lo and behold that commitment has had the effect of allowing him to influence the look of men's suits.
I'm intrigued by Creatures of the Wind because they often leave me really scratching my head. I love it when something is not immediately obvious and yet at the same time you're drawn to it for some reason that you can't quite explain. And I am interested in JC Obando, who I think is one of the Fashion Fund finalists this year. I admire again that focus on this sort of eclectic, hand-drawn kind of vision.
What do you think about New York versus Europe, in terms of the fashion season? 
In the fashion industry, we have this inherent disdain for commercial, and a lot of the designers in New York are commercial. To me, that attitude is saying, "Well, I hate popular music because a lot of people like it." I don't think that just because you're popular should in any way take away from the creativity that you have. It takes a certain skill to be able to connect with a broad range of people, and it takes a certain integrity to say that I'm not going to limit my view to, you know, ten size-two girls who have $10,000 to spend on a new wardrobe every season.
So I don't really buy the theory of "All the action is in Paris." I think that is a narrow approach. That said, when I want to have my head blown, I'm pretty sure that's more likely to happen in Paris than it is in New York, because that's the Paris brand. New York gives you clothes that you would love to wear and that you will wear, and you'll feel really good about wearing. Paris gives you ideas about style and clothes to fantasize about, clothes which perhaps you will wear on that special occasion.
What are your thoughts about Bethann Hardison's plan to highlight designers who are only using white models on social media? That's a conversation that comes up every couple of years. 
I am a big admirer of Bethann because she is so tenacious and so committed. The fact that she is someone who is very much inside the fashion industry lends a kind of legitimacy to what she's doing that you would not get if it were somebody who's doing some grassroots effort from Main Street. And I admire her patience because, honestly, I can remember the first story I ever wrote about how homogenous the runways were, and it was like 1996, 1997. It just keeps coming around and at a certain point you do wonder, why is this so difficult to grasp?
Do you think that there has been any real progress?
I think that there has been incremental progress, certainly. I have always thought in the back of my mind that part of the reason why change has never really happened is because we're talking about integrating the runways in a way that is less dependent on an aesthetic mood for a season, and focused more on a moral obligation. I think if you look back at history you realize that those sorts of changes that are rooted in morality have not happened out of the goodness of people's hearts. They have been forced into making those changes through political efforts, through legislation, through economic pressure. So while I just said that I think Bethann's campaign has legitimacy because she speaks as a voice from within the industry, I don't know that sweeping, significant change will happen until pressure comes from outside the industry, from places that start taking the fashion industry seriously as a place that has an incredible amount of power and influence on the culture at large.
And on business at large, I would say. 
On business at large, as well. I always compare fashion to sports, and when you think about some of the issues that have come up in sports, particularly in baseball, with steroid use and all of that, you wonder, "Why is Congress having hearings and calling Barry Bonds? What does that have to do with anything?" And you realize it's because we as a culture, or at least some people in our culture, take sports really seriously, and they believe that it represents something about who we are, about our belief in fair play, and they recognize that that has an impact on younger people. I don't think that fashion will really change until that same sort of recognition happens.
Do you feel the same way about the ongoing underage model legislation, and government getting involved in that debate? Or is that more about child labor?
Well, it was always surprising to me that child models weren't covered by the same rules that governed child actors and musicians. We've seen enough sad stories about child actors whose interests were warped, and the sad things that happened to them. But there's also a part of me that thinks you can't really legislate good parenting. I mean, if you as a parent decide that, "Yeah! My 16-year-old can go off to Milan by herself," okay then.
Some of it, too, is that there are economic factors at play. Like the scouting that happens in rural Brazil where they tell these kids and their families that they'll make a ton of money …
Right, that is true. And there is the awe of the child making more money in a month than the family has ever made in an entire year. And I think that definitely plays a part in it, so in that way the legislation is absolutely great and wonderful. In general, I think it's a good thing because that is treating the fashion industry like the really serious business that it is.
Let's talk about your book [tentatively titled One Night at Versailles, and exploring the roles economics, race, culture, and ego played in the unfolding of Battle of Versailles, a Franco-American fashion show that took place in 1973]. And anything else you've been up to? What can you reveal about that? 
Well, I've been locked in my home office listening to disco music and so if I start humming Gloria Gaynor, forgive me [laughs]. It's been interesting because the seventies are very fresh in my mind, and when you bring up diversity, you know, the last great gasp for black models on the runway was really the seventies and the early eighties. And then the pendulum shifted. One of the things that has struck me about that is perhaps one of the underlying reasons was that so much attention was paid to the way that black models moved on the runway. And it was very much sort of a personality-driven movement.
In terms of every model having a different walk?
Yeah, I think they became very associated with that. I think that perhaps it's one of the things that gets into people's minds when they say things like, "We don't want the models to be a distraction from the clothes, so we want the models to be generally the same look." I think sometimes they can attach a reminiscence of the movement of the models, rather than just the look of the models themselves.
But probably what's going to be most striking for me is that I've been spending so much time reading about the period when American designers were really considered lesser on the world stage. This is the late sixties, early seventies, when designers like Calvin Klein, Ralph Lauren, Oscar de la Renta, Donna Karan, who was nurtured through Anne Klein, the people that we consider to be pillars of the industry now, were just coming into their own. So they had their own deep, secret insecurities, and a lot of that's changed as evidenced by the size of the businesses that so many of these brands have been able to build. And yet, I do still see that constant nagging question of "Are we good enough? Are we as creative? Are we really fashion, or are we something else?
I was fascinated when you told me how Vogue used to run copies of dresses and designs.
This was in the late fifties, and you could open up Vogue, or any magazine really, and you would see these pages where they would have a photograph of the original Paris creation, and then there would be the knockoff. And the copy would very clearly tell you who had made it, who had copied it, and it would not be subtle. It would say "Copied by." When you look at the way that the industry operates now, its insecurities, its paranoia, all go back to that. I remember when websites were first coming along that showed runway photos from Europe, the French were out of their minds: "Oh my god. All these runway photos are going to be posted willy-nilly online so that anyone can see them!" [Laughs.]
When you look back, you realize that the fear was not simply because of the copying possibility. It was because they were losing control of the copying. Back in the fifties, manufacturers and designers from the States would go to Paris, they would pay a fee to Dior or Saint Laurent, or whomever it may be, and for that fee they would get the pattern and the fabric, and the right to copy that garment. Stores like Bergdorf Goodman would have their versions of Paris couture and they would have different levels. They would have the version that was most closely associated with Paris, and they would provide multiple fittings for the American client.
So approximated couture, almost?
Approximated couture, and it would be made in-house by Bergdorf. The label would say something like Yves Saint Laurent for Bergdorf Goodman. And then there would be the second tier, which would be copies that Bergdorf would have contracted some garment manufacturer on Seventh Avenue to make. It would be a good-size label, and it would say Bergdorf Goodman, but it would be essentially just a copy of Paris. Then there would be again even more of a trickle down, where it would be some manufacturer who would produce it, and it'd say "Bob's Label." It would have nothing to do with Bergdorf and it would sell for even less. But Paris essentially controlled a lot of that, and they also got paid. So when the Internet all of a sudden put these pictures online, the idea that the clothes were going to be copied was not something new and horrifying — it was just that, "Wait a minute, we're not getting paid!" And "we're not getting credit," that was the other thing.
Now that's so far out of their hands.
Now it's completely out of their hands, but one of the things that Didier Grumbach [head of the Chambre Syndicale de la Haute Couture, which governs the Paris shows] said to me was that, you know, one of the reasons why Paris is what it is is because they know that they can't compete in terms of production. They will never manufacture as many dresses as some U.S. company manufactures. The only thing they can compete on is creativity. Which is one of the reasons why if you are a designer and you want to show in Paris, if you want to be on the official calendar, you have to be approved, unlike New York. You know, he was very funny talking about Kanye West because I said, "Well, Kanye was in the Chambre Syndicale book as showing 'off-calendar,'" and he just sort of looks at me and says, "Paris is an open city." Like they couldn't shut the gates. There's a lot of control over it. They love Rick Owens, for instance; they love that he's edgy and all of that. And Grumbach said that if everybody likes your collection in Paris, then there's something wrong with it.
When is the book itself coming out?
It's due at the end of the year, so it'll be like the end of 2014, beginning of 2015. It sort of will straddle that last part of the year.
Do you think coming back to the shows after a little time away will reinvigorate you, in a way?
I think that it will, because one of the things that I've learned is that sometimes I'll be telling a friend who works in something completely different from fashion about some fashion-related thing, and I will always be struck by how often the off-handed remark is the thing that captures her attention. Like the fact that most fashion shows are about ten minutes long. It blows their mind! I've had people say, or assume, that a show is like 30 or 40 minutes long.
Could you imagine? 
You recoil in horror, like, "Oh my God, I would kill myself and those around me." But I'm hoping that more of the moments will leap out at me, where I will be able to see a little bit more clearly the oddness or the illogic or even — just to be a little sappy about it — the incredible pleasure of seeing something and having it feel new.