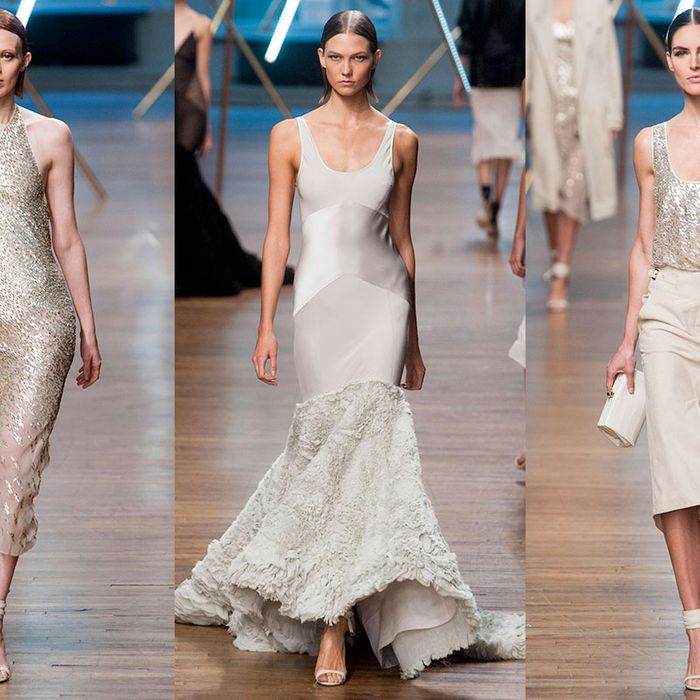 The image of a gentleman designer dressing his muse — or at least his most faithful female customers — with resolute attention is both charming and antiquated. Yet the idea refuses to die because designers, the male ones at least, are routinely asked by writers to describe their ideal woman — as if the many women they are asking to pay thousands of dollars for a simple dress are akin to collectible Barbies. And so the image of the doting yet domineering designer lingers, luring creative souls into the business again and again as they try to step into that role.
When Jason Wu first came to prominence, he was a young designer who seemed to be casting himself as a kind of fresh-faced Pygmalion. He quickly became known as someone aspiring to walk in the footsteps of Oscar de la Renta, a man who often comes across as a charmingly blunt fashion dictator. And Wu's clothes certainly do exude old-school glamour from a time when women revered their dressmaker.
Aesthetically, Wu also represented continuity — the industry's sweet affection for great beauties and social swans was safe. His first few collections had a precious quality — loaded with lace and tulle, as well as proper tweeds — that disconnected from a gritty reality that today even the wealthy cannot completely avoid. The era of the cosseted woman ended long ago. And while the fashion industry does its best to keep up pretenses, with gazelle-like women prancing into fashion shows on strappy heels and carrying expensive handbags, everyone knows that as soon as the show ends these exquisite creatures will round a corner and disappear from sight, slipping out of those fancy shoes and into flats.
Last spring, when Wu edged away from his earlier rose-colored vision to explore his darker side, his collections became better for it. They still appeal to the rare bird of paradise, but they now have a solidity and grace that can also speak to a professional.
Wu's spring 2014 show was inspired by the tension between construction and ease. A khaki-colored pencil skirt played nicely against a gold sequined tank. Corset detailing through the bustline grounded an ivory slip dress. A sapphire skirt, sprayed with paillettes, brought fresh verve to a similarly colored ribbed sweater. And large insets of lace saved a swingy little black dress from banality.
This collection was not Wu's best. There have been others in which he has displayed more daring — as when he loosed his imagination in the photography of Helmut Newton. Yet this time, while the clothes were not the stars of the runway; the women were. The muse revolted.
Wu opened his show with the red-haired model Karen Elson. Her curvy body, more substantial than today's reed-thin mannequins but no less beautiful, suggested maturity and strength. Now in her 30s, Elson, wearing a bias cut halter dress embroidered in gold spangles, had presence on the runway. Hilary Rhoda soon followed in a slim suede skirt and gilded tank top that showed off her impressive, chiseled arms. As Wu's most famous client First Lady Michelle Obama has informed the world, there is something captivating about a woman with sculpted arms. Her physicality can be intimidating; her strength is obvious; her confidence is assumed.
Wu's models were not a cast of unknowns plucked from the rainforest. These women had walked countless runways. But in the cut of Wu's clothes, which was comfortable but not oversized, the simplicity of the styling and the beauty of the makeup, the models looked at ease. By the time Karlie Kloss appeared — the penultimate model down the runway — wearing a pale sage tank gown with a billowing, embroidered hem, it was impossible not to watch her every move. Kloss is known for her elegant strut, but as she passed by, it was the rear view that was especially spectacular. That tush! In that dress! It was quite something to behold in all of its unabashed glory — not because it was sexually provocative but because it was like watching a sprinter in retreat.
When the show ended and the diminutive Wu took his bows in his dark, tailored jacket, he headed backstage where well-wishers crowded around. He posed for a photograph with the tennis star Maria Sharapova. She towered over him, but he did not seem to mind. The designer's runway had been filled with imposing, powerful women. They had dutifully shown off his aesthetic vision. But they'd made themselves unforgettable.