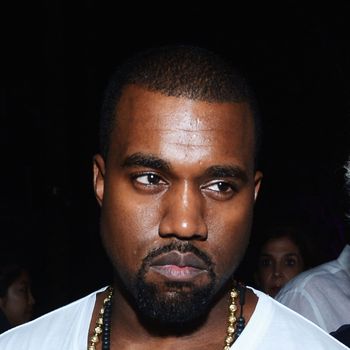 Photo: Dimitrios Kambouris/Getty Images
Kanye West is said to be plotting his label's return to Paris Fashion Week, according to an unattributed report in British Vogue. Far more surprising is a new rumor that he has recruited Christophe Decarnin, formerly of Balmain, to be his new head designer. This marks the first time Decarnin's name has surfaced in the media since he left Balmain in 2011 after suffering from an unnamed illness that caused him to miss his own show. Kanye has previously been connected to advisers like Diesel's Nicola Formichetti and British designer Louise Goldin.
Kanye has alluded to his catwalk return before, mentioning in July that he had set up a design studio in Milan, so a comeback of sorts was to be expected. And if Decarnin really is involved, that's rather sweet; both he and Kanye would get their second chances together. But the collection can't be in the works yet — Kanye's been far too busy tweeting at Jimmy Kimmel.