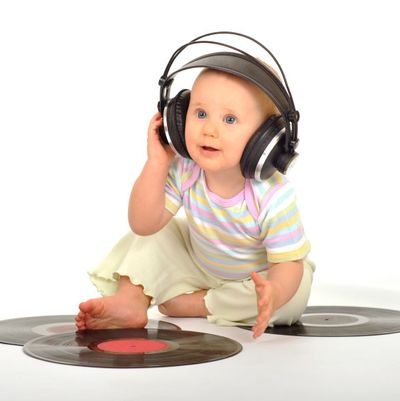 Brooklyn D.J. Natalie Elizabeth Weiss has started a D.J. school for babies. For $200, newborns to children age 3 can sign up for an eight-week course in creating and mixing electronic music at Crown Heights thrift store and performance space Cool Pony, reports the New York Post.
These classes aren't for Baby Mozart babies, who will later become uptight flute players, but they're also not for scenester babies who are just concerned with being "cool." They're for toddlers who really care about the music. Children who haven't quite tapped into their natural skill set will also benefit from the early exposure to funky tracks and phat beatz. "It's a wonderful tool for children to use because it doesn't require fine motor skill, as opposed to playing the flute," said one woman who has enrolled her 2-year-old son in the eight-week course. "He can't really draw a perfect circle, but he can mix some slicing beats together."
And that's what will get him into Harvard. Soon-to-be-moms, while you're debating baby names, make sure you also select a fly D.J. handle. Some starter names: D.J. Droolz, Sir Needs-a-Nap, D.J. Heavy Diapers, and Lil' Little Guy are all available.