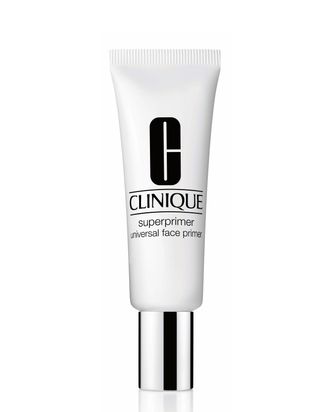 Photo: Courtesy of Clinique
If beauty had a set of platonic ideals, even skin tone would be at the top of the list. And as with most ideals, few people naturally have it. I use foundation to partially even out areas of my face, but I'm not a big fan of the overly made-up look. No matter how diligent I've been about sunscreen, I have more hyperpigmentation (brown spots around my upper cheekbones and upper lip) at the end of every summer. I also have mild rosacea (a condition that causes redness), and I haven't yet found a lightweight foundation that addresses both redness and pigmentation simultaneously. But this month Clinique releases a line of "superprimers," each formulated to address a different skin concern like redness, dullness, sallowness, or discoloration, and designed to create a smooth, uniform surface under your regular foundation.
If you have multiple skin concerns, rather than layering the various primers, Clinique Global colour artist Jenna Menard recommends using just one primer at a time to address a single issue, and a foundation to correct for your other issues. This of course didn't stop me from using different formulas on various areas of my face, just to test which worked best. The yellow-tinted "Colour Corrects Redness" formula neutralized my Rudolph nose for the entire day. However, my hyperpigmentation is a lot harder to cover, and not even the foundation and the peachy "Colour Corrects Discolorations" primer combined could mask it entirely. But I'd still recommend any of these products for filling in cracks and giving skin a silky, even texture. There's also a "universal" primer for women who don't have any specific issues but just want smoother skin.
It may seem like an annoying added step, but primer really does help prep your face for any makeup you'll use afterwards. Even if your daily life doesn't require skin "perfection," there are all kinds of moments and events when we know that cameras will be out and we want to look our best. No more Instagram filters needed.
Clinique Superprimer face primers, $27 each at Clinique.