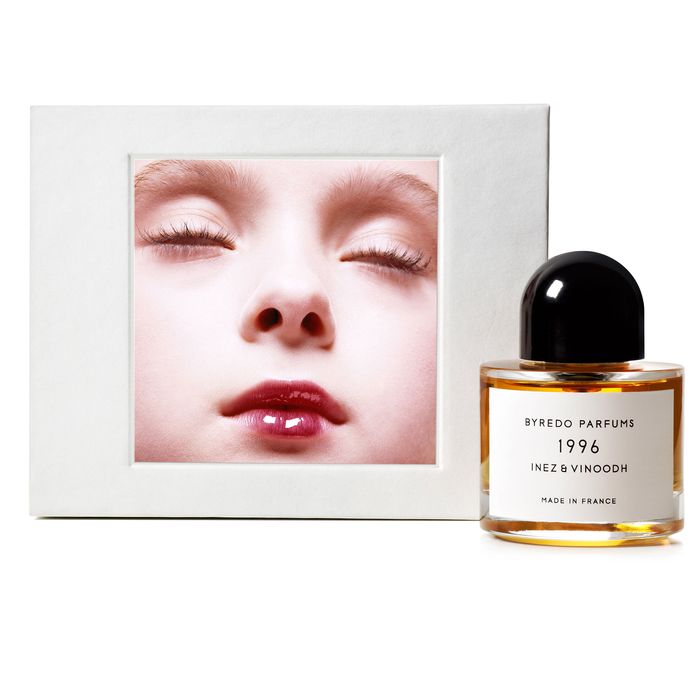 Inez van lamsweerde and Vinoodh Matadin have made many, many images in their years as one of fashion's top photography duos. But it was a beauty shot from almost two decades ago that inspired their latest extracurricular collaboration, 1996, a perfume with cult scent-maker Ben Gorham of Byredo. It's not the first time Ben Gorham has collaborated with artists, or based a perfume off an image, having also produced M/MINK with creative fashion powerhouse M/M Paris in 2010.
Inspired by the photo above, entitled Kirsten 1996 and taken that year, the fragrance is a combination of all their favorite scents from their travels together. There's a duality and tension hidden in this scent: A base of amber, vanilla, and a hint of patchouli are contrasted with sharper, green top notes of juniper and black pepper. A sneaky floral moment comes from violet and orris. Originally produced in a private edition (as a Christmas gift for close friends), the sweet, amber scent caught on among all who smelled it, and inevitably, what the world's best stylists, editors, and publishers want, they get. This month the perfume gets a general release. To me, it evokes the coolest girl who never went to class in high school, but all you need to know is that it will make you smell prettier than a picture.
Byredo 1996, 50 ml Eau De Parfum, $175 at Byredo.