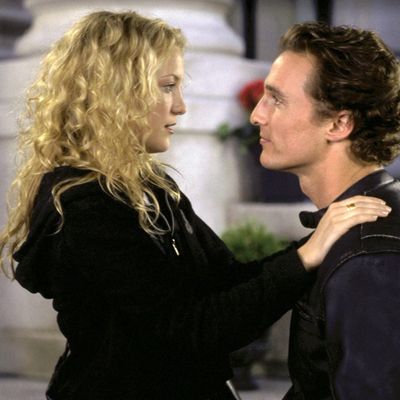 Photo: Paramount/Courtesy Everett Collection
It's been a long time coming, but the Hollywood Reporter just drove the final nail into the romantic-comedy coffin. The genre is dead. This inevitably forecasts a terrible fate for that "40 Days of Dating" movie that's in the works (though we still have high hopes for a possible movie adaptation of 300 Sandwiches).
While romantic comedies have been a reliable genre for the past 30 years, recent movies like the Five-Year Engagement and What to Expect When You're Expecting — though, let's be fair, that's a terrible litmus test — failed to bring in big box-office dollars. What will future women weep to while they eat pints of ice cream? Female stars are going for R-rated raunchy comedies, gritty dramas, or sci-fi films, none of which can console us.
But it's not just the box-office slump that signals the end. THR reports that even meet-cute magician director Nancy Meyers couldn't get a green light for her adorable romantic comedy about the ROYAL WEDDING. 
It's really over, guys. Kate Hudson, Drew Barrymore, Meg Ryan, and all the rest, thanks for the memories.

Today, we mourn not just the loss of meet-cute films, but the lost potential of the Nancy Meyers Royal Wedding rom-com that will never be.