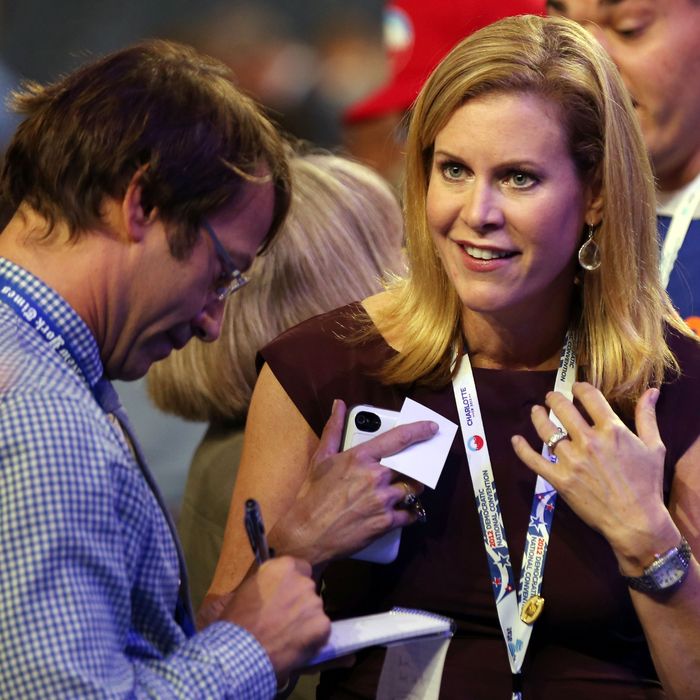 Photo: Justin Sullivan/Getty Images
By all accounts, Stephanie Cutter, the former deputy campaign manager for Obama's reelection, ought to be having a good week. This is the week CNN relaunched Crossfire, with Cutter playing the Geraldine Ferraro part. Too bad conservative media site the Daily Caller — founded by Tucker Carlson, himself a former Crossfire host— used the show's premiere as an excuse to review Cutter's existence. It is difficult to overstate how sexist writer Patrick Howley's review was. Also, how bizarre:
"A loathsome creature … the roots jutting out from her blonde dye job as black as the recesses of her soul"

"A charmless, dead-eyed, tacky sociopath with no sense of ethics, an empty shell spewing her flat-throated bile without the slightest trace of self-awareness"

"A figure of hatred and dishonesty, a person devoid of any pleasantness or redeeming human value, a treadmill-stomping, Starbucks-chugging monument to modern self-absorption, someone incapable of appreciating good art, fine food, or the love or kidness of her fellow man"

"talentless, grating, fraudulently tanned"

"feminism mutated into grotesque cartoon"

"the 90-IQ suburbanite Student Council vice president smugly doodling her gel pens in the front row of the class, mixed with the ranting fever dreams of the Smith College lecture halls, doused with half a dash of unearned metropolitan haughtiness and marinated in the despicable shouting matches of post-Carville politicking"

"Carrie Bradshaw without the literacy, Chelsea Handler without the punch lines, Kirsten Powers without the prettiness, gorging her face with the spoils of ill-gotten first-world privilege"
Maybe this is more of that "satirical misogyny" we just don't get?
And then today —Tucker Carlson & Co. aside — MSNBC published an excerpt of Richard Wolffe's nonfiction book about Obama's reelection campaign, The Message, which paints Cutter as the victim of boys'-club antics, even on her own team.
First, Obama's inner circle alternated between thrusting Cutter in front of cameras (There's a War on Women!) and punishing her for "stealing the limelight." Then, after a couple of campaign slipups on Cutter's part — a Boston press conference that was overtaken by Romney supporters, an "unbecoming" allegation that Mitt Romney was either a liar or a felon — top aides Jim Messina, Dan Pfeiffer, David Plouffe, and David Axelrod closed the circle even tighter, freezing Cutter out of meetings rather than risk friction by relaying the negative feedback from the West Wing. "Nobody on her side had the guts to tell her — to her face — that she had stepped out of line," Wolffe wrote of Cutter's team, based out of Chicago. Meanwhile, in the White House, "They even feared her anger and her relationship with the First Lady — not least because Cutter reminded anyone and everyone of how Mrs. Obama had often called for her help."
So they "hatched a plan to push Cutter out of the picture." They hatched it at a professional sporting event.
Messina gathered a small group together at a White Sox baseball game, where Larry Grisolano, Axelrod and Plouffe spent half the game talking about the Cutter question. They needed Pfeiffer to take over the communications staff after the convention in September. Then Cutter's role would be confined to TV. The only remaining challenge was: who would tell Cutter of her effective demotion? Messina offered, but that was rejected as an impractical move that would rupture Chicago. Plouffe wanted to keep his distance. There had already been several stories about how few women there were in Obama's inner circle, and nobody wanted to be involved in a story that could leak about the demotion of the only high-profile woman inside campaign headquarters.
In the end, none of them had "the balls" to demote her, according to an unnamed senior campaign staffer. They were too afraid she would quit, and the First Lady had deemed her indispensable.