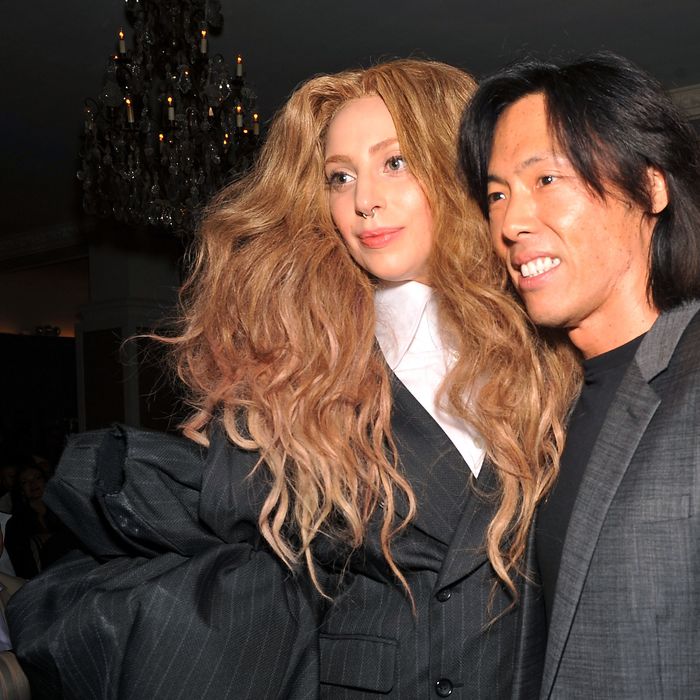 Lady Gaga and Stephen Gan.
Photo: D Dipasupil/Getty Images
Lady Gaga made a surprise appearance (in full wig, no less!) at the Fashion Media Awards last night, taking the stage to present the Magazine of the Year Award to Stephen Gan for V magazine. "I wasn't going to write anything down," Gaga said, shuffling through her notes at the podium. "I wanted to speak from the heart, but then I started to get ideas, and I needed to write them down." Excerpts from her speech:
So, what do I say about you, Stephen Gan. Well, I basically wouldn't know anyone in this room if it wasn't for you, fact. True. When I first met you, we had sushi on 8th Street, and it was like I just had known you for so long. There are very few people in this industry — well, I shouldn't say in the fashion industry, I should say in the music industry — but there are very few people who stand by you, always. But Stephen, and all my art friends, you were always really there …
I would describe the magazine of the year, V Magazine: It is a completely bold and completely brave, creative, passionate, and artistic magazine that has so much soul and so much integrity. It's my favorite magazine, if that means anything. And it's my favorite because it's my favorite to be on the cover of [laughs], and because they let me be on it four times. And also because it's a place where I can really be myself … I've cried in your offices, begging you to put that hat on the cover, but Stephen lets me put the hat on every time, because he understands the outlet that clothing can provide.

Sometimes I think we've almost felt, like, stuck in an art ghetto that we can't get out of. [Stephen] took us out. And he told us to believe in our talents. And I can't thank you enough for following your dreams when you were young, because if we didn't have you, I wouldn't have a magazine that I could be on the cover and know no matter what, when I saw the cover, I would cry, because it was not about if it would sell, or if it was marketable, or if it was accessible —  it was about if it was good.
Should you be curious about those covers, you can see them here.