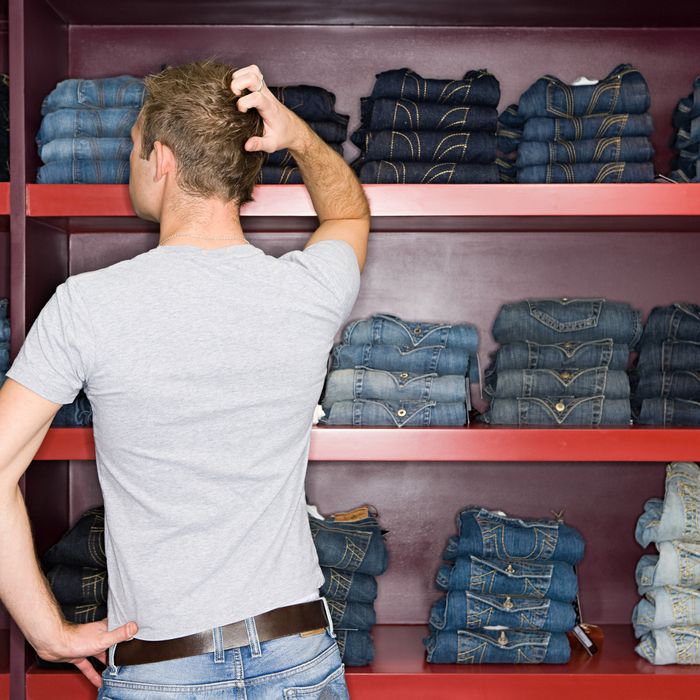 Tough choices.
Photo: Corbis
According to a recent study on the shopping habits of men and women, today's male shoppers are more likely to bumble around looking lost until they are rescued by a helpful salesperson seek assistance when they're buying something. The survey, titled "How America Shops," was conducted by WSL, a retail-strategy firm that questioned 740 men and 780 women shoppers over age 18 in July of 2013. Their results show that men ask for help at a higher rate than women in most categories, specifically home products (25 percent of men versus 18 percent women), baby products (25 of men versus 12 percent of women), and beauty products (14 percent of men versus 9 percent of women).
Perhaps men feel less equipped to shop because they're not as bombarded with recommendations from friends, family, and media about what to buy all the time. (However, as a woman, I can say that all that extra information doesn't always make me more decisive. More choices = more hemming and hawing at the cash register.) Another theory: Men are used to women telling them that they bought the wrong thing, which is a widely accepted gender norm. Women who tell men what to wear or what kind of sheets to buy are considered helpful and nurturing; on the flip side, men who do the same for women are often viewed as controlling assholes. Thus, a lot of men are conditioned to get a second opinion before making a purchase.
The good news for equal-opportunity shopping: This study also indicates that "millennial" male shoppers behave more like their female counterparts. Not only do they shop more in general, but they also shop strategically, using the web to find sales or promotions (which older males are less likely than females to do), and shopping more frequently on their mobile devices. So as time goes on, men and women will feel equally confident — or at least equally baffled — when it comes to buying things.