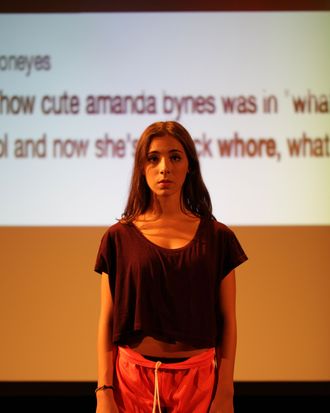 Photo: Sasithon Pooviriyakul
Eleven teenage girls from some of New York City's most prestigious schools sat in a circle one recent Sunday afternoon, doodling on their sneakers as Starbucks iced coffees melted by their sides. One of the young women studies cello at Juilliard; others have been directed by Woody Allen and Eve Ensler. Asked if they have ever been called a "slut" before, all but three raise their hands.
The teens are actresses currently appearing in the Fringe Festival play SLUT, which explores what happens to fictional 16-year-old Joey Del Marco after she is sexually assaulted in the back of a taxi by two guy friends following a night of drinking. Joey gets blamed for what happened by her friends, their parents, even the boys who assaulted her. The story draws on "things that have happened in our lives — what we experience in school and on social media," said Clare Frucht, 16, a student at La Guardia High School.
The actresses developed SLUT over the past year and a half through workshops with the Arts Effect All-Girl Theater Company, whose founders Katie Cappiello and Meg McInerney directed the play. The engrossing drama is based on the girls' own journal entries, as well as their observations of the Steubenville rape trial. SLUT — which Gloria Steinem lauded as "truthful, raw and immediate" — has been chosen for the Fringe's Encore series September 14 to 29, as well as a performance at the StopSlut Conference at the New School on Saturday, October 19.
This interview has been condensed and edited.
In the play, the girls on Joey's dance team jokingly call themselves the "Slut Squad," because they really like having sex — and they proudly call each other "slut" as a compliment. Is that someone you've experienced in your own schools?
Samia Najimy Finnerty, 16, Professional Children's School:  The "Slut Squad" really came from a lot of our personal experiences in high school and middle school and the people we were surrounded by. We realized that every high school has a group of girls, whether it's a dance team or a group of girls that hang out with each other, that have that reputation.
Vikki Eugenis, 16, Professional Performing Arts School: Slut is used in many different ways, especially for our age. We call each other "sluts" in a friendly way, like "Oh my God, slut, what's up?"
Frucht: [The word "slut" is] kind of empowering. It means you're sexy. But you can also see how it's reversed. It's this line that isn't clear and that's what makes it so hard to maneuver our way around it. 
Marcela Barry, 17, Professional Performing Arts School: It's a word that changes definition based on convenience.
Who does the slut-shaming come from more often —  girls or guys? 
Eliza Price, 15, Saint Ann's: I always noticed it as girls calling other girls sluts.
Barry: The way girls use it so casually amongst each other, that's what lets guys think that they can use it just as casually. 
Amari Rose Leigh, 15, Hunter College High School: Sometimes when girls [call each other sluts] it's because they come from a place of jealousy or envy. Sometimes [being sexual is] what we're taught to admire and girls don't know how to deal with that, so you turn against other girls.
Najimy Finnerty: When girls use it, it's like, "That boy wanted to hook up with her and not me because she's a slut and he knows she'll go further than I will." The ways guys use it is like, "I can do this to her. I can treat her like this because she's a slut." That's a way of degrading [the girls] so they feel better about what they're doing to this girl. It completely devalues the girl and makes her sexuality a negative thing.
Frucht: It's unfair. We all have wants and needs as hormonal teenagers.
When you hear about something sexual that's become a he-said-she-said situation between people you know, do you feel pressured to take sides?
Najimy Finnerty: I am biased because I always believe the girl. The majority of people don't. [People] question her and question her choices and ask where was she and what she was wearing and what was the situation she was in. I believe there aren't a lot of reasons to lie about being raped.
Danielle Edson Cohen, 16, LaGuardia High School: What this play has especially done for me is give me a chance to think about how all girls [should] have a chance to be believed and all girls have a chance to be on each other's side. There's no point, otherwise, if we're not on each other's sides.
Leigh: I sometimes think girls are each other's worst enemies.
Barry: They're vicious.
Drinking and drugs have a lot to do with teenage sexual experimentation. How do kids your age behave when they're drinking?
Najimy Finnerty: It clouds your judgment. That's the point of drinking.
Willa Cuthrell, 15, Friends Seminary: Alcohol is an excuse for doing things. If you drink, you say, "Oh, I did that because I was drunk." Someone else would say, "She did that because she was drunk."
Winnie Bonjean-Alpart, 16, Packer Collegiate: I think teenagers need to learn how to drink and be responsible at the same time. That's a skill that can actually be taught and it can be taught by adults and people who do have experience drinking.
Sexual assault is part of a larger culture in which men feel entitled to behave however they want toward women's bodies. Do you experience catcalling a lot?
Bonjean-Alpart: A lot of men now do it where they almost think they are complimenting you — "Oh, you look really nice today." That will make me feel obligated to say "thank you," even though they're 40 years old and I don't know them and I'm going to school. I don't care if you think I'm pretty! Then I'll ignore them and they'll be, like, "Really? You're such a bitch! I'm just complimenting you. I'm not trying to hook up with you."
Does knowing you could be sexually harassed on the street affect how you choose to dress or how you interact with people in public?
Najimy Finnerty: I was walking down the street in a long maxi-dress and a thing over my shoulders even, and some guy followed me for three blocks yelling obscenities at me and what he was going to do to me. I told my mom [actress Kathy Najimy] when I got home. She's the biggest feminist ever and the first thing she asked me was, "Well, what were you wearing? Did you go up to him? What were you doing?" Literally I could have been wearing a burqa and it would not have mattered because that guy saw me and he knew that's what he was going to do.
Edson Cohen: I definitely feel embarrassed when [catcalling] happens to me. I feel like I did something incorrect to provoke that. I don't want everybody on the subway to see that.
Frucht: If I go out and I'm wearing a V-neck, guys are always commenting on it. Even my guy friends! I'll be like, "Why are you doing this?"  They're like, "You wore it."
Do your families and your teachers and your friends acknowledge that you're coming into your sexuality? Do you ever feel slut-shamed by them?
Bonjean-Alpart: I don't think there is support [for sexually active teenage girls] as a whole. It varies from parent to parent, because those are obviously the most important people supporting us with those decisions. But we're facing this outside of our families and we need support and we're not getting that. If the only person I can go to is my mom, that's a problem. There should be more.