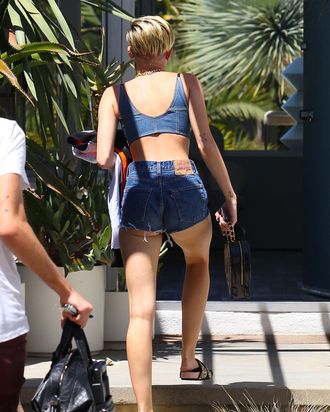 Photo: VM/Dino/FAMEFLYNET PICTURES
I'm not usually one to suggest that parents take seriously what they see in music videos. But if any grown-ups are concerned that their teenage daughter may be running around with her butt hanging out of her shorts, à la Miley Cyrus: I'm sorry, she definitely is. This summer, I couldn't get through my commute without encountering some bare teen butt, thanks to the trendy "cheeky shorts," which can be made at home by giving your Daisy Dukes a trim and are available at Urban Outfitters and Nasty Gal. Short shorts are nothing new; where the cheeky short breaks ground is its exposure of the crease where butt meets thigh, an area now known as the "underbutt."
It's the kind of trend that scandalizes even edgy coastal types. As Chloë Sevigny told the Cut:
I was at Coachella this year and I kept calling them "denim underwear," because all the girls wear the denim underwear and it's, like, a little obscene! … I don't want to say that, but you know, sometimes I think that they're just too short. And now I'm turning into that person that I'm like, your shorts are too short!
I sympathize. No matter how viscerally put off I am by underbutt, I can't defend my reaction. Don't want to see teen butt? Look away! Think underbutt is "inappropriate"? Who made you the Mutaween? I can come up with some sanitation-based objections (subway seats), but the truth is, I'm probably just jealous that today's young woman feels comfortable enough — physically, socially, emotionally — to walk around with her butt out.
That's one reason to applaud the underbutt. A better one is that it does not appear to be a one-season trend. Soon, to do anything but applaud underbutt will be to advertise one's advanced age and impending irrelevance. The Daily News talked to women who took the look to the streets of New York City, and the message was clear: Fall may offer a reprieve (or at least some tights), but underbutt is here to stay.  According to "underbutters" Amy Deronde and Montana Accavallo, both 19, as long as temperatures stay high, the shorts will too.
"When it's this hot outside, I just like to wear as little as possible," explained Deronde. Asked how high her own shorts might rise, Accavallo said she knows no bounds. "There is no limit," she said.
In other words, global warming will make denim-wedgied Rihannas of us all.