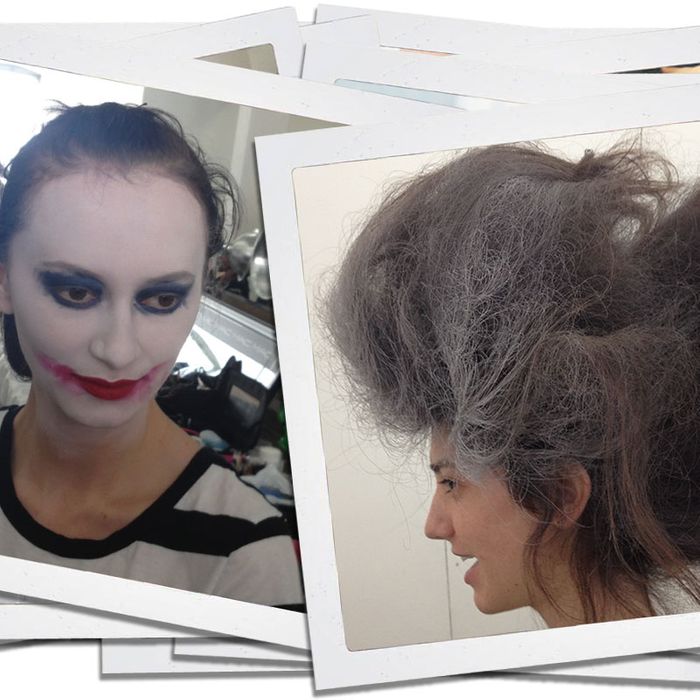 All week, we'll be going behind the scenes to figure out what, exactly, a normal woman can learn from makeup artists, hair people, manicure experts, and models (of course). Today we picked up tips while looking for outlets at 3.1 Phillip Lim, Donna Karan, Thom Browne, Maki O, Carolina Herrera, and Theyskens' Theory.
1. How to get model skin (maybe): Early mornings and late nights, passed hors d'oeuvre, and free Juice Generation green juices as meals are taking a toll on my skin. It would be fine if my day wasn't spent watching models have their perfect skin get even more perfect. Today, I asked for some much-needed skin help. The team at Theyskens' Theory uses La Roche-Posay Spring Water spray to refresh the skin and recommends spritzing the skin after getting off the subway. Model Liu Wen swears by the Nutritious face mask by Estée Lauder she applies every night before bed. Unfortunately, it's only available in China at the moment, and her other tip (avoiding alcohol) will probably not happen. However, I will try Tom Pecheux's idea: Before applying makeup, his team massages moisturizers into the models' skin, which makes the skin more pliable, so makeup takes better. He recommends all ladies (and men) take the extra step before applying any sort of foundation. "Take some time to love yourself and your skin will glow."
2. Eyelids are sexy: I've generally avoided using gloss on the eyelids, but after seeing the sexy, shiny, undone makeup at Theyskens' Theory, makeup artist James Kaliardos might have convinced me otherwise. For the look, he used a clear gloss on the eyelid and mascara, but no eyeliner. "Every woman can do this. Women look beautiful in eyeliner, but there's something sexy about what we don't see. The eyelid can be very sexy," he said. I knew that rule applied to, say, knees or clavicles, but eyelids … news to me!
3. How to diffuse a tease: The hair at Thom Browne was insane (literally, the models were meant to look like they were in an insane asylum), teased and sprayed with white texturizing spray from Bumble and bumble. Unlike Karlie Kloss, most models don't have time to go home and wash their hair (that's what the bathroom sink is for!), but stylist Jimmy Paul has the secret for calming down an intense, bird's nest tease without hair ending up in a knot. Start by brushing the hair down, then apply shampoo to dry hair to help soften. Wash, wash again with more shampoo and then condition, condition, condition. Easy-ish. Hope there is more than one sink in a backstage bathroom.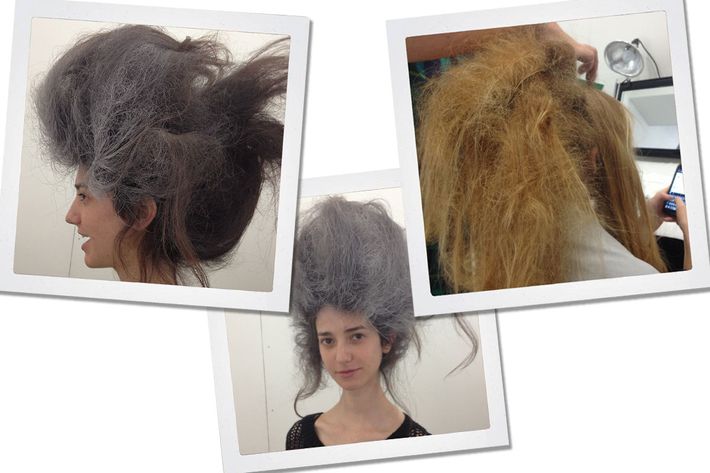 4. Teachable makeup moments can be found in all backstage makeup: I'll admit, yesterday, I threw a little shade on the high-concept looks from Hood by Air, Delpozo, and Creatures of Comfort. But today, I was wowed by the makeup backstage at Thom Browne. The spooky artistry was stunning and original, but I also wanted that perfect red lip. (Albeit, not smeared like a crazy clown.) While both theatrical lipsticks the team used are discontinued, M.A.C's lip liner in Cherry is a great substitute. First, line the lips to get the perfect lip outline, then fill in with the pencil. And if you want to look like a scary Thom Browne mental patient (Halloween?), all you need to do is smudge.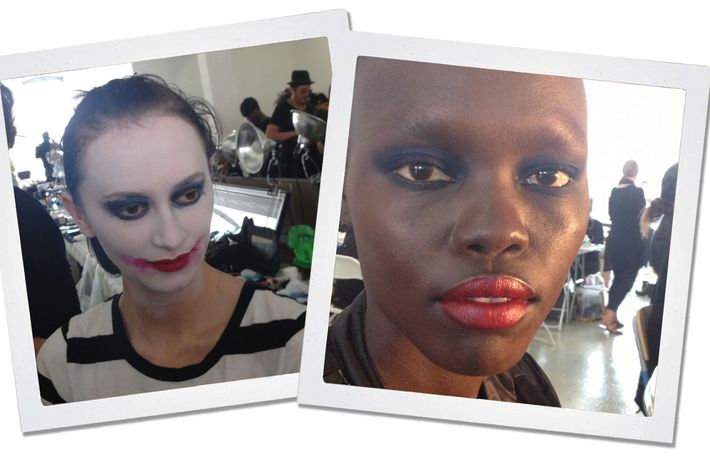 5. The secret to charging your iPhone: All week, my battery has been hovering around six percent. If you're also at Fashion Week and you find yourself with a dying phone, try the Smart Water-sponsored charging stations backstage at Milk Studios; the Apple Store on 15th Street and Ninth Ave. (they play top 40 and have ample seating); and the plentiful outlets at Pier 59, where almost every guest at the Opening Ceremony party last night could be found "just waiting until they got to 20 percent." But never, ever, plug your charger into the power strips in hair and makeup. Not that I tried. Or got yelled at.