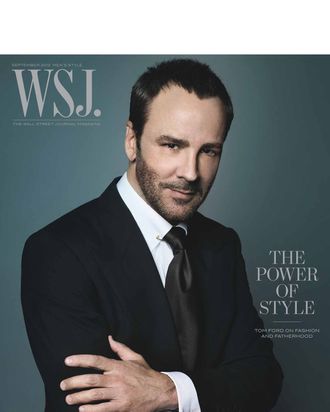 Tom Ford covers WSJ.'s latest menswear issue, wherein he discusses exactly what we want to hear about: his new baby, Jack, born via surrogate last September.
"I didn't quite know what to expect," Ford says of Jack's arrival. "I remember the day before he was born, I was up at like 5 a.m., frantically going to the supermarket in L.A. making sure I had miniature versions of sanitary hand wipes for his diaper bag. I didn't know what the other side of that cliff was like."
And yes, of course, he does change diapers. Richard Buckley, his partner of 26 years, confirms it.
"Tom being Tom, all the clothes are folded in a drawer a certain way," Buckley says. "He's a 100 percent hands-on dad. He gets up at six every morning, gives Jack his bottle, changes him, washes him, plays with him, gets him dressed for the day." 
Adorable. So are we to assume that those baby-size pink shoes he made for Blue Ivy are part of a forthcoming kids' line? Because that would be … extraordinary.