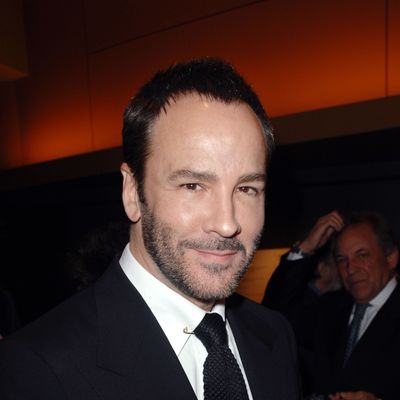 Tom Ford.
Photo: DAVID CROTTY/Patrick McMullan
When Tom Ford was casting models for his spring 2014 show, which walked last night in London, he specifically asked for women with muscles: "Like she could snap your neck with her thighs!" he tells British Vogue. "I don't know if you noticed, but those girls had swimmers' shoulders and toned thighs — most of them, all the ones I could find." Which is rather sad, isn't it? While the clothes themselves were certainly strong and powerful (literally, in some cases, with hard mosaic pieces and leather that looked like it could repel bullets), those models hardly looked like they were capable of breaking down doors or even hauling a heavy suitcase. Good on him for trying, at least?
Ford does lament the dearth of brawnier-looking models these days, adding that he's more inspired by the Amazons of the seventies and late eighties. But he's optimistic: "Right now, there seems to be an influx of younger models who have this very powerful build," he says. We'll believe it when we see it, but if anyone can will this trend into existence, it's him.