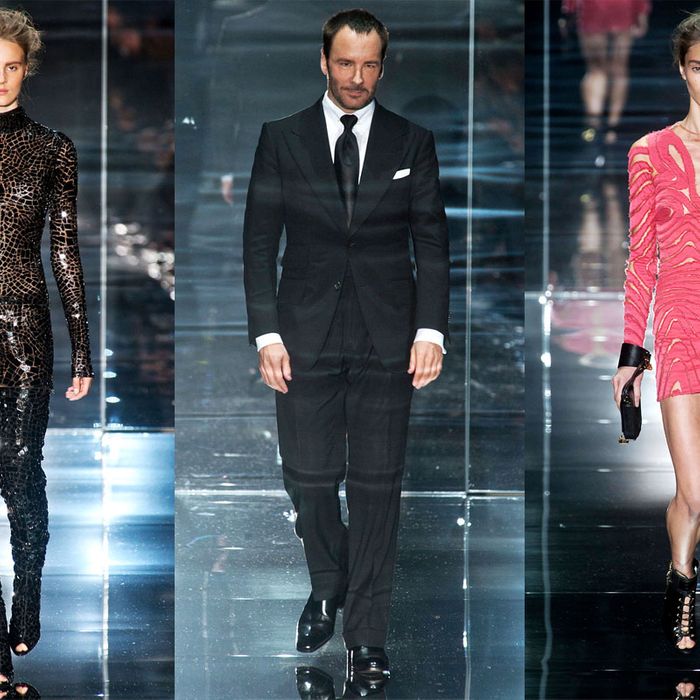 On the street before today's Tom Ford show in London, guests were excitable, even frenzied. Hilary Alexander stood on the sidewalk outside Lindley Hall begging others in the crowd for a cigarette, as she'd freshly run out. A kind gentleman finally obliged. 
Ford admitted a few months ago that he regretted the extravagant (some called it "ostentatious") presentation of his last womenswear show — which, you may recall, garnered "lukewarm" reviews instead of the stellar ones he expected — but luckily, he didn't do away with the army of male models that greeted guests indoors, proffering Champagne and smiling pleasantly. Their presence did feel less overwhelming than last season, however, in that there were fewer of them and they weren't styled like clones. When asked for seating directions, one of them politely admitted he didn't know the arrangements — he was only there as eye candy.
The venue itself was very dimly lit, so dark that the only thing clearly visible before the show was the sparkle of a sequinned Tom Ford jacket worn by one of the female guests. All the walls were mirrored, with soft gray couches as the seating. It was hard to imagine what the room could possibly be used for other than a Tom Ford show: A Bond villain's lair? An incredibly luxurious sex club?
André Leon Talley (resplendent in blue taffeta) sat front row near Natalie Massenet and Carine Roitfeld; opposite was Anna Wintour, who was soon joined by Ford's two celebrity guests. Gauging from the buzz that surrounded them, it was clear they were celebrities, but who? It was impossible to tell. Twitter finally yielded the answer: Cate Blanchett and Colin Firth. Blanchett shared what looked like a genuinely warm catch-up with Ford's partner, Richard Buckley, before taking her seat.
The collection itself had the usual mix of animal skins, leathers, and furs, but mainly revolved around skin-tight minidresses and bodysuits, which were embellished in everything lace, ribbons, and reflective mosaic tiles that cast tiny slivers of light over the crowd. There were glossy leather jackets, sexy lace-up ankle booties, belted waistlines, and visible thongs beneath sheer skirts. A number of outfits featured netted stockings (or were they thigh-high boots?) with criss-crossing laces up the front.
The runway finished quietly, without a finale. As guests filtered out, the tinkle could be heard of one or two Champagne glasses being stepped on in the darkness.