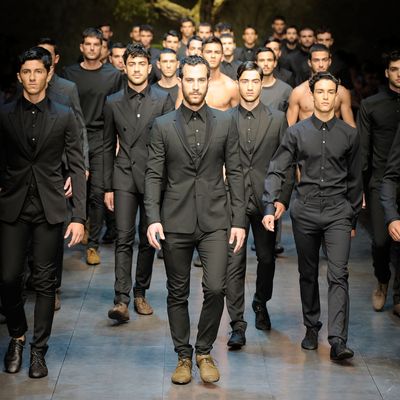 Photo: Catwalking/Getty Images
Luxury men's fashion has often been treated like a sidekick to womenswear. It's relegated to off-site venues in New York City during Fashion Week or tacked on as a day or two at the end of the women's European season. It's afforded less mainstream press than its sister industry. Even within the fashion press, the media have often enjoyed chuckling over outlandish runway creations that would pass without comment at the womenswear shows.
But in recent years, menswear has shown more mettle. First came whispers that sales were rising, along with a major report from consultancy Bain & Co. revealing that the luxury menswear market was growing at almost double the speed of womenswear — 14 percent per year, thanks to increasing sales in Asia. In turn, London Collections: Men (LC:M) — three days of menswear shows, expanded from what was previously called "men's day' and tacked onto the end of London Fashion Week — has gone from a nervous start-up to a major calendar event in just three seasons. International buyer attendance was up 55 percent at the recent SS14 shows compared to the previous season, according to the British Fashion Council. Bigger labels are opening menswear-only flagship stores: Ralph Lauren's new three-floor men's flagship in Hong Kong has wood-paneled staircases and a complimentary bar; Dolce & Gabbana has chosen a location on London's New Bond Street and decorated it like an ostentatious bachelor pad; in Milan, Gucci has a new flashy, art-deco-inspired men's store with VIP made-to-measure facilities. And even the younger brands showing at LC:M report that business is flourishing: E.Tautz director Patrick Grant, for instance, told Business of Fashion that his label's international sales have almost tripled in the last year.
"Men often shopped in the past when they needed to replace something," says Tom Kalenderian, executive vice-president of menswear at Barneys, adding that men's shopping attitudes have shifted from the functional to the impulsive. (He reports that recent designer menswear sales at Barneys have grown "double-digit.") "Today they're avid collectors, owning more than one watch, pair of sunglasses, bag, and so on. The pursuit of new and exclusive items has fueled growth."
But what, exactly, do these men seek out? "For most men, clothing used to be a uniform of acceptance. Today, it's about an individual statement of creativity," Tom Chapman, an owner at the rising international retailer Matchesfashion.com — where menswear sales rose 200 percent in the last year — told me between shows at LC:M in June. "Twenty years ago, when I used to work on the floor selling Versace printed shirts for £900, it was a challenge to persuade the customer that they wouldn't feel like a fool wearing it. Now people are so much more connected to what's happening with product. There's an extra level of confidence there." He credits the change of mood to social media. Our relentless exposure to the industry through sites like Instagram, Pinterest, Facebook, and Twitter has made fashion less daunting and more inclusive.
During a recent round of showroom visits in Paris, Chapman's buying team tells me that in womenswear, there are far more extremely wealthy customers who will buy into edgy brands like Christopher Kane. "You have that woman who's willing to pay top-level price to have the newest, latest cool designer," observes Damien Paul, the head buyer. Men with bigger budgets traditionally play it safer, shopping from established luxury brands. The more experimental labels are usually shopped by a different type of guy: the man who watches runway shows online and treats his wardrobe like a treasured library. For this fashion connoisseur who isn't necessarily affluent, price points need to be lower — certainly in the hundreds rather than the thousands. At one showroom, Paul is frustrated by an expensive, experimental piece by a talented designer who is new to menswear. "I love it, but we can't sell it at that price to the young, cool fashion guy who will want it."
When it comes to selling the products, men also respond more than women to detailed brand information, history, and the technology that goes into making a product. "It's a much geekier approach," Chapman adds. "As a man, if I'm being told about a jacket, I want to know the way it's sewn and constructed."
Toby Bateman, who will be buying for MrPorter.com this week, agrees. "Men are initially more cautious buyers than women, and will ask more questions. They want to make an informed decision," he explains. "Once a man likes your website or brand, however, he's very loyal." For a retailer this is both good news and a challenge; they may keep a customer for life, but persuading him to try new things — the sort of looks we might see on the runway this week — is difficult.
This is one reason why editorial content is so crucial — those online or print magazines published by retailers including MrPorter.com (The Journal), Oak (Oakazine), and Matchesfashion.com (The Style Report). Both Kalenderian and Chapman tell me that men are more likely than women to engage with editorial content and personalized recommendations. This also explains why Shopbop, the Amazon subsidiary known best for pioneering editorial commerce in online retail, launched their own men's site, East Dane, this week.
At Matchesfashion.com, analytics show that men even dwell on articles that aren't related to fashion; travel and music both get a great response. "Good content is crucial for us. If you can build a relationship with a customer where he comes to you three times a week to read something interesting, then when he's ready to shop, he'll come straight back," says Paul.
Editorial, like social media, can also make guys increasingly aware of what aspirational luxury lovers are already wearing. "Music is a key influence for men. If you love Kanye West, you could be wearing Givenchy," says Paul. It's another way in which the luxury menswear landscape has expanded: "Now we see 22-year-old guys wearing Givenchy T-shirts, even if they have to save up for six weeks to get them." It's the buyers' job to predict what that guy will be saving up for next.