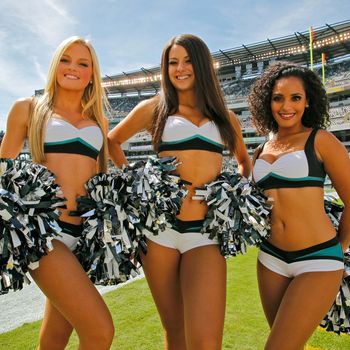 Photo: Hunter Martin/Getty Images
Elegance. Grace. Bridal perfection. Nancy Kerrigan.
All things synonymous with Vera Wang. And now, the rah-rah women of the Philadelphia Eagles are getting a Wang upgrade. E! reports that the Eagles brought on the designer to add a "contemporary and fashion-forward" touch to the existing "glamor" and "athleticism" of NFL cheerleading uniforms.
Recently, designers like Opening Ceremony have been updating uniforms for airlines and makeup companies, with great results. But Wang is the first high-end designer to revamp  the pro-cheerleader look. We had high hopes for the update, basically: less underbutt, more fabric! Alas, Wang's designs are not exactly "game changers." There are color-blocked crop tops, low-rise skirts, and boy shorts. For added warmth and flair, Wang added "sexy shrug sweaters" and a zip-up track jacket, all in the signature Eagles teal and black.
Nothing, not even the sophisticated vision of Vera Wang, can change the eternal booty-short-sports-bra combination of a cheerleader.